Hunting
Hunting is a permitted use under the enabling legislation for Valles Caldera National Preserve (Public Law 113-231, Sec. 3043) and can be done in accordance with applicable Federal and State law. The legislation also provides for the designation of zones and periods when no hunting is permitted for reasons of public safety, administration, wildlife management, or public use and enjoyment.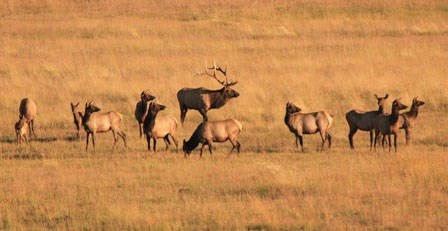 Elk Hunting
Valles Caldera National Preserve is one of New Mexico's premier elk hunting locations. Between 2,500 and 3,000 elk occupy the preserve for breeding, calving and foraging. Hunts are designed to pay homage to man's oldest relationship with animals by providing the public with a memorable hunting experience. September, October, and November are the best time frames for prescribed fire season. While on your hunt you may encounter smoke, fire crews, fire equipment, road closures and closures to portions of the preserve.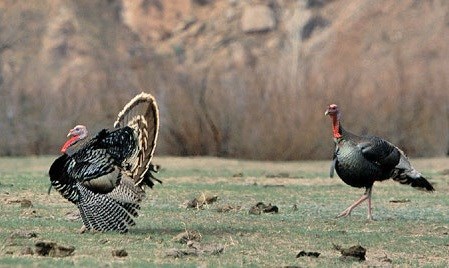 Turkey Hunting
Merriam Turkeys, one of the three subspecies found in New Mexico, are noted for their striking plumage, wariness and keen eyesight. Turkey hunting, whether with bow or shotgun, can be a challenge for all skill levels. From April thru December, the preserve is home to an estimated 400 Merriam Turkeys.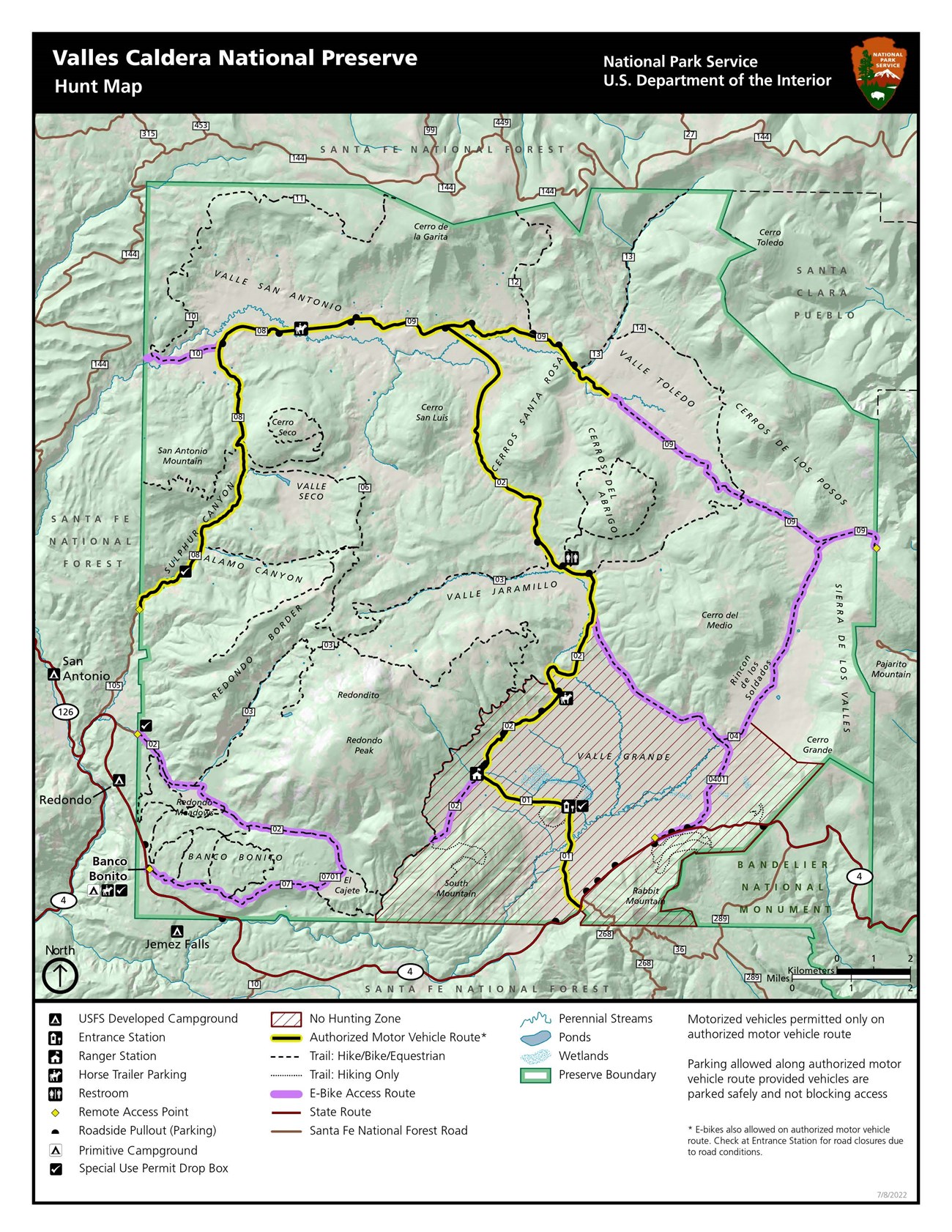 No Hunting Zones
Hunting is prohibited in the front-country including Valle Grande, South Mountain, and Rabbit Mountain. Visitors are advised to wear bright colors outside the "No Hunting" zone during hunting season.
How To Apply For Hunts
The elk and turkey hunting lotteries/drawings for the Valles Caldera National Preserve are part of the draw managed by the New Mexico Department of Game and Fish (NMDGF). Information on how to apply for the state drawings can be found on the NMDGF website or by calling 1-888-248-6866. Valles Caldera National Preserve is Unit 6B.
For information about hunt dates, number of licenses available, bag limit, state regulations, etc., please visit the NMDGF website or call 1-888-248-6866.
Hunting Permit
Got your New Mexico draw for Valles Caldera? Apply for your hunting permit.
Apply now
Hunting Dates
NMDGF sets ALL hunting dates, types, limits, residency requirements, etc. For questions about hunting dates, types, limits, residency requirements, etc., please contact NMDGF.
Turkey Hunts Unit 6B
Deadline to apply for draw permits = February 15, 2023
TUR-1-103 Hunt dates = (April 15 - 30), 20 tags, 1 bearded turkey
Elk Hunts Unit 6B
Deadline to apply for draw permits = March 22, 2023
Hunt dates
| | | | | | |
| --- | --- | --- | --- | --- | --- |
| HUNT | METHOD | SPECIALTY | DATES | Type | TAGS |
| ELK-2-219 | Archery | | September 1-14 | ES | 25 |
| ELK-2-220 | Archery | NM Residents Only | September 1-14 | A | 10 |
| | | | | | |
| ELK-2-221 | Archery | | September 15-24 | ES | 25 |
| ELK-2-222 | Archery | NM Residents Only | September 15-24 | A | 10 |
| | | | | | |
| ELK-3-223 | Muzzle | | October 7-11 | ES | 15 |
| ELK-3-224 | Muzzle | NM Residents Only | October 7-11 | A | 20 |
| | | | | | |
| ELK-1-225 | Any Legal | | October 14-18 | ES | 15 |
| ELK-1-226 | Any Legal | NM Residents Only | October 14-18 | A | 20 |
| | | | | | |
| ELK-1-227 | Any Legal | | October 21-25 | ES | 20 |
| ELK-1-228 | Any Legal | NM Residents Only | October 21-25 | A | 15 |
| | | | | | |
| ELK-1-229 | Any Legal | Youth Only, NM Residents Only | Oct 28-Nov 1 | A | 35 |
| ELK-1-230 | Any Legal | NM Residents Only | November 4-8 | A | 35 |
| ELK-1-231 | Any Legal | NM Residents Only | November 18-22 | A | 35 |
| ELK-1-232 | Any Legal | Youth Only, NM Residents Only | November 25-29 | A | 35 |
| ELK-1-233 | Any Legal | NM Residents Only | December 2-6 | A | 35 |
| | | | | | 350 |
Last updated: August 17, 2023