Volunteer
Current Volunteer Opportunities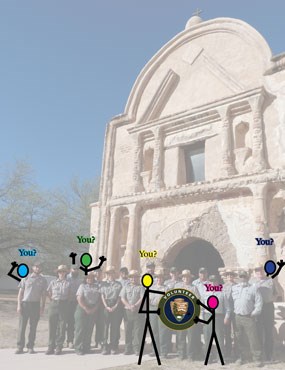 What is it like to volunteer at Tumacácori?
In a word - great! Supervision and/or training is provided for all positions. Some volunteer positions are regular, ongoing positions; others are seasonal or for special projects. In addition to the open positions above, volunteers have engaged in these types of activities:
Interpretation
Docent - lead tours, develop programs for visitors
Youth programming - for school groups on- and off-site
Assist at Visitor Center Information Desk, including sale of books and other materials
Photography and videography
Translate / transcribe old Spanish documents
Translate brochures / site bulletins into Spanish, German, or French
Miscellaneous organizational and clerical work for Interpretive Division
Graphic design for posters and exhibits
Historical research on selected topics
Maintenance
Landscaping and garden work (weeding, trimming, etc.)
Small engine maintenance and lube work on equipment
General repair work, carpentry, plastering, painting
Trails maintenance - cleaning/dusting exhibits and trail signs
Administration
Find Out More
Contact the Volunteer Coordinator at 520-377-5063 or stop by for more information.


Last updated: June 11, 2021