Courtyard Garden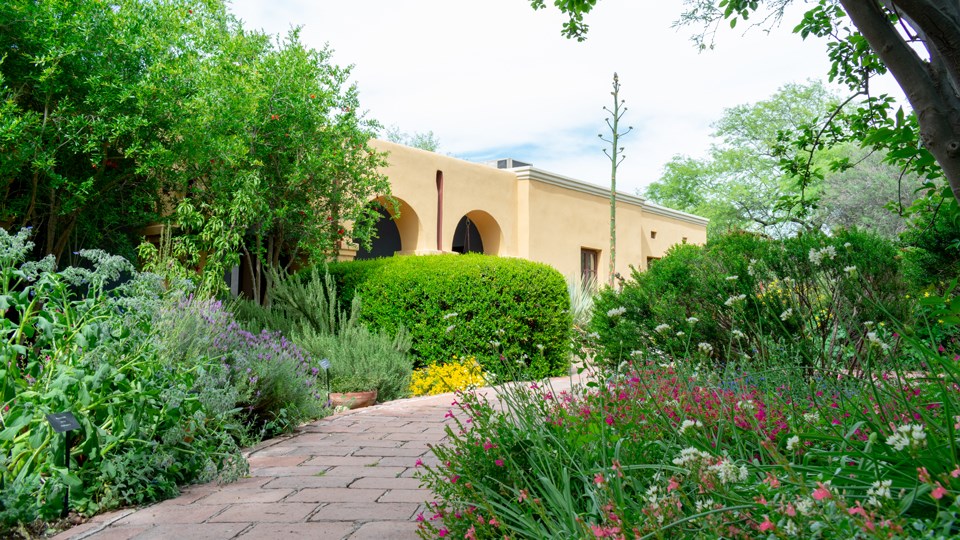 How It Was
Missions took their garden design from Spanish tradition, which itself incorporated garden design from Arabic, Moorish, and Roman architectural tradition. Combined, a Spanish garden incorporated a walled courtyard with a central fountain, often including water channels in the four cardinal directions, that promoted shade, fragrance, and color. In the mid-1700's when the first church was constructed at Tumacácori, there was undoubtedly a garden similar to the one located at the visitor center today.

Duell, a trader who visited the Tumacácori mission after it was abandoned, described the walled area that then existed to the east of the Tumacácori church as having, "...full grown fruit trees...peaches, pomegranates, quinces, etc….oriental appearance with white dome and deep green trees...gave an Asiatic effect. The high garden walls and beautiful baths still in as perfect a state as when left...Tumacácori was more fortunate than its neighbor to the north, San Xavier del Bac, and must have possessed a beautiful garden. Evidence of an irrigation system and partial garden wall was visible." Early travelers through the area commented in supplementing their food supply from the more than fifty peach trees in the Tumacácori mission garden. Many mentioned unharvested fruit and seeds littering the ground.
These gardens featured mostly plants imported from Europe and brought to the New World by the padres. Each of these plants would have had enough value for settlers to import them from Europe, or to adopt them from the surrounding area– the value of cultural, religious, or symbolic importance, medicinal or food value, shade, or simply beauty.
How It Is Now
The courtyard garden at Tumacácori was built in 1939 as part of the visitor center's New Deal era construction. Its design aesthetic, like many of the adjacent visitor center architectural details, mirrors that of the missions in New Spain.

The sun dried adobe garden walls were completed in October of 1937. Following the completion of the visitor center building that December, the first plants were introduced into the garden. Several fig trees -- cuttings from a Black Fig in Amado that was believed to have come from the original Tumacácori Mission orchard -- were planted in March of 1938.

The following year, in March of 1939, sixteen young men employed by the Civilian Conservation Corps (CCC) began construction of the patio garden. A section of the east garden wall was removed to allow access by their dump truck. The crew brought in topsoil, building materials, and some large trees, including olives, pomegranates, and an apricot tree. Between 1939 and 1940, CCC crews also laid out and installed the brick walkways and created the fountain and adobe benches still in use today.

Of the original garden plantings, the olives, ornamental pomegranates, and apricot tree survive. None of the original figs remain. Both ornamental and fruiting pomegranates from original 1930s plantings can be found on the north side of the visitor center (the side facing the mission church). At least three native mesquite trees were left in place and continue to grow in the garden to this day.

All About Fruit Trees
Tumacácori protects a legacy of gardeners going back thousands of years. And an ecosystem of pollinators going back even further.

Duration:

6 minutes, 4 seconds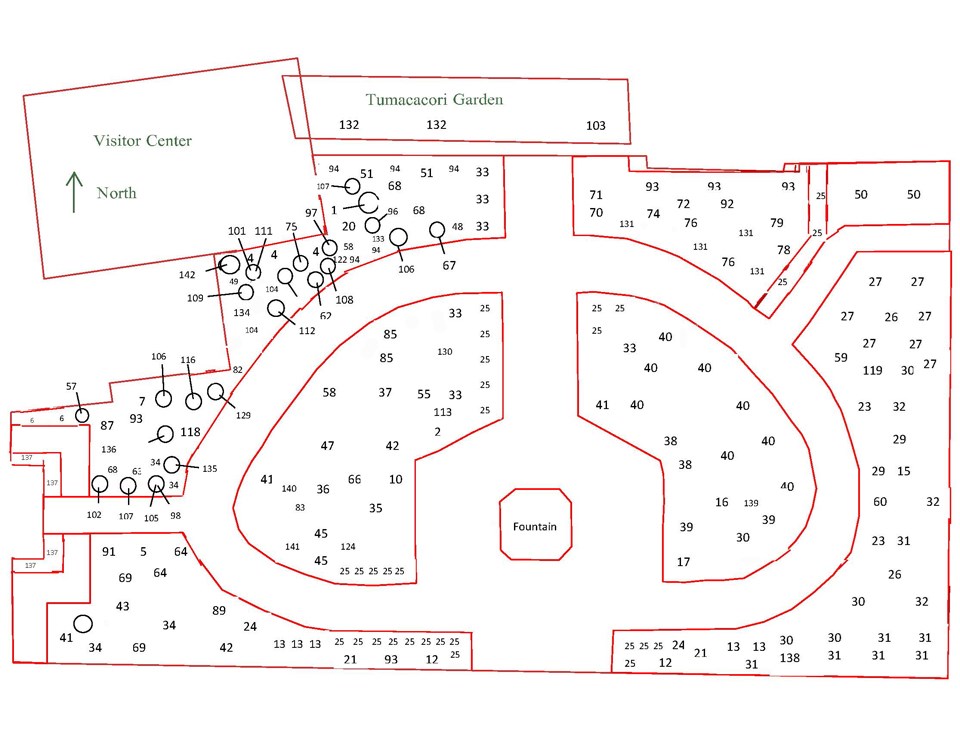 Botanical

Common name

Location

Prunus persica 'Bonanza II'

Miniature bonanza peach

1

Borago officinalis

Borage

2

Tagetes lucida

Tarragon

3

Vitus vinifera

Mission grape

4

Laurus nobilis

Bay laurel

5

Achellia millifolium

Yarrow

6

Philadelphus microphyllus

Little leaf mock orange

7

Poliomintha maderensis

Lavender spice

8

Ceanothus greggii

Desert ceanothus

9

Salvia clevelandii

Cleveland's sage/Chapparel sage

10

Zauschneria latifolia

Hummingbird bush

11

Lavandula dentata 'Goodwin Creek'

Lavender

12

Rosa arizonica

Arizona rose

13

Hemerocallis

Day lily

14

Prunus serotina

Chokecherry

15

Potentilla fruticosa

Bush cinquefoil

16

Lobelia laxiflora

Sierra Madre lobelia

17

Glandillaria goodingii

Gooding's verbena

18

Agastache wrightii

Sonoran hyssop

19

Rosa damascena semperflorens

Autumn damask rose

20

Rosa gallica officinalis

Apothecary or Gallica rose

21

Rosaceae fendleri

Fendler rose

22

Artemisia ludoviciana

Wormwood sage

23

Glandularia pulchella

Moss verbena

24

Iris

Iris

25

Vitex

Monk's pepper, Chaste tree

26

Viola

Violets

27

Levisticum officinale

Lovage

28

Salvia blepharophylla

Eyelash leaved sage

29

Salvia greggii

Autumn Sage

30

Althea rosea

Hollyhocks

31

Aloysia wrightii

Wright's bee brush

32

Myrtus communis

Roman myrtle

33

Commelina erecta

Day flower

34

Prunus armeniaca

Apricot tree

35

Prunus x domestica

Plum

36

Pyrus communis

Pear tree

37

Olea europaea

Olive tree

38

Punica granatum

Ornamental pomegranate

39

Aquilegia chrysantha

Columbine, golden

40

Prosopis velutina

Velvet mesquite

41

Cydonia oblonga

Quince

42

Citrus aurantium

Sour orange

43

Salvia apiana

White sage

44

Sphaeralcea ambigua v. ambigua

Globe mallow

45

Sphaeralcea ambigua v rosacea

Rose globe mallow

46

Plumbago scandens

White plumbago

47

Chrysactinia mexicana

Damianita

48

Ficus carica

Black mission fig

49

Lonicera sempervirens

Coral or Hummingbird honeysuckle

50

Punica granatum

Pomegranate

51

Aristolochia watsonii

Native pipevine

52

Chenopodium ambrosioides

Epazote

53

Ruta graveolens

Rue

54, pot 107

Stachys coccinea

Scarlet betony

55

Mirabilis multiflora

Showy four o'clocks

56

Chamaemelum nobile

Roman chamomile

pot 57

Poliomintha maderensis *

Mexican oregano

pot 58

Salvia henryi

Crimson sage

59

Ageratum corymbosum

Native butterfly mist

60

Agastache foeniculum

Anise hissop

61

Thymus vulgaris

Thyme

62

Silybum marianum

Milk thistle

63

Origanum marjorana

Marjoram

64

Clematis drummondii

Virgin's bower, Old man's beard

65

Rhus ovata

Sugar sumac

66

Capsicum annum vr glabriusculum

Chiltepin

67

Rosmarinus officinalis

Rosemary

68

Anemopsis californica

Yerba mansa

69

Agave murphyii

Murphy's century plant, Hohokam agave

70

Dasylirion wheeleri

Desert spoon

71

Agave parryi

Parry's agave

72

Agave lophantha

Agave lophantha

73

Agave victoriae-reginae

Queen Victoria's agave

74

Ferocactus wislizeni

AZ barrel cactus, Fishhook barrel cactus

76

Aloe barbadensis

Aloe

77

Nolina microcarpa

Beargrass, Sacahuista

78

Dasylirion quadrangulatum

Thornless or toothless desert spoon

79

Salvia azurea v. grandiflora

Blue sage

80

Brickellia californica

Bricklebush

81

Brickellia amplexicaele

Earleaf bricklebush

82

Peritoma arborea

Bladderpod

83

Hyptis emoryi

Desert lavender

84

Allium cernuum

Nodding's onion

85

Melampodium leucanthum

Blackfoot daisy

86

Gossypium thurberi

Desert cotton

87

Ratibida columnaris

Mexican hat

88

Monarda didyma

Bee balm, Bergamot

89

Monarda austromontana

Lemon Beebalm

pot 90

Origanum vulgare

Oregano

91

Jatropha cuneata

Limberbush

92

Datura wrightii

Sacred datura

93

Tulbaghia violacea

Society garlic

94

Tropaeolum majus

Nasturtiums

113

Hypericum perforatum

St. John's Wort

pot 116

Hyssopus officinalis

Hyssop

129

Allium

I'itoi's onion

pot 118

Passiflora incarnata

Passion vine

128

Mentha pulegium (European); Hedeoma pulegioides (American)

Pennyroyal

pot 106

Oenethera biennis

Evening Primrose

127

Lavanda stoechas

Spanish lavender "Madrid purple"

122

Symphytotrichuma lanceolatum

Day of the Dead Daisies

123

Coreopsis

Moonbeam'

124

Eriobotrya japonica

Loquat

125

Eschscholzia californica

Poppy

126

Cuminum cyminum

Cumin

pot 100

Ipomoea batatas

Sweet potatoes

114, 115

Allium schoenoprasum

Chive

pot 97

Corriandum sativum

Cilantro

pot 98

Mentha requienii

Corsican mint

pot 99

Pimpinella anisum

Anise

pot 95

Heterotheca subaxillaris

Camphor, Arnica

pot 96

Vinca minor

Dwarf periwinkle

pot 101

Foeniculum vulgare

Fennel

pot 102

Echinocereus pentalophus

Ladyfinger cactus

pot 103

Petroselinum crispum

Parsley

pot 105

Mentha piperita

Peppermint

pot 106

Rumex acetosa

Sorrel

pot 108

Mentha spicata

Spearmint

pot 109

Satureja montana

Winter savory

pot 112

Melissa officinalis

Lemon balm

pot 104

Satureja hortensis

Summer savory

pot 110

Ocimum basilicum

Sweet basil

pot 111

Tagetes lucida

Tarragon

pot 75

Salvia chamaedryoides

Mexican Blue Sage

130

Agave univittata

Thorn crested agave

131

Cissus trifoliata

Arizona Grape Ivy

132

Ephedra nevadensis

Morman Tea

133

Canna

sp.

Canna Lilly

134

Tanacetum parthenium

Feverfew

135

Aloysia citrodora

Lemon verbena

136

Aloe maculata

Soap aloe

137

Sideroxylon lanuginosum

Gum Bumelia

138

Dicliptera resupinata

Arizona Foldwing

139

Prunus pumila

var.

besseyi

Western Sandcherry

119

Passiflora arizonica

Passion Flower

140

Epilobium canum

California Fuchsia, Hummingbird trumpet

141
Last updated: July 4, 2020