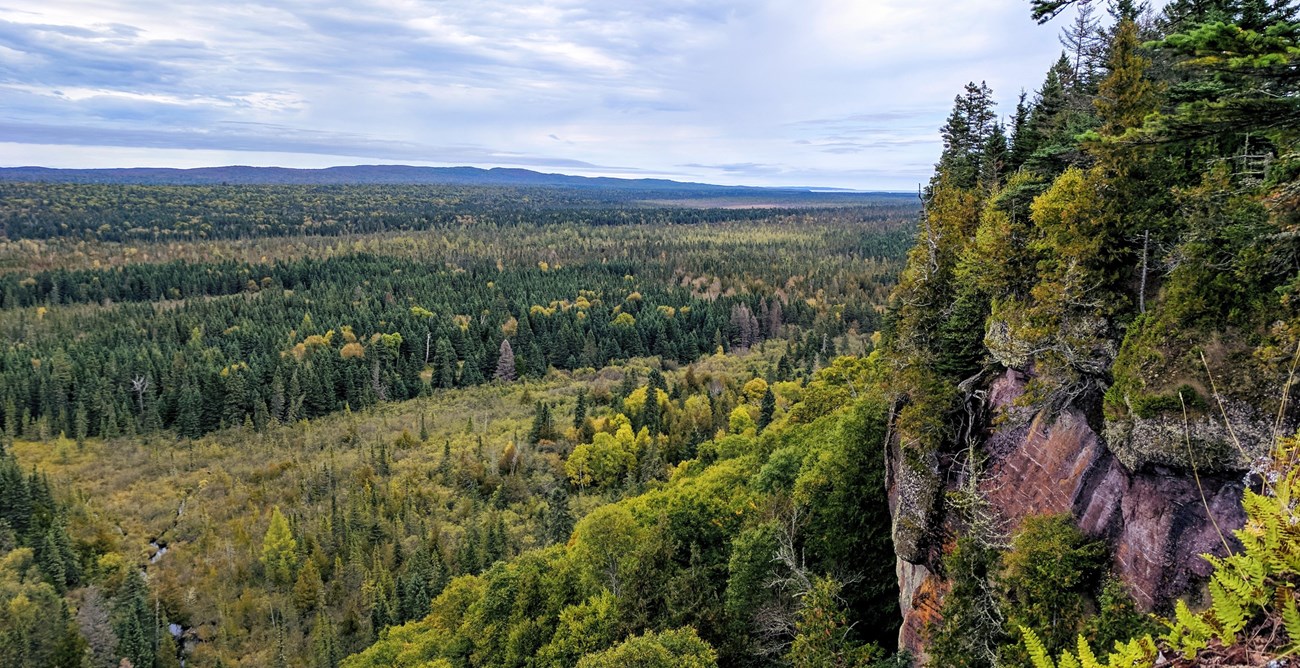 About the Feldtmann Loop
Mileage: About 30.1 miles (including spur trails to campgrounds)
Rating: Intermediate backpackers
Duration: Four to five days
Essential Reading: Isle Royale's newspaper, The Greenstone
Night 1: Feldtmann Lake Campground

Via Feldtmann Lake Trail (about 8.5 miles)

Night 2: Siskiwit Bay Campground

Via Feldtmann Ridge Trail (about 10.3 miles)

Night 3: Island Mine Campground

Via Island Mine Trail (about 4.4 miles)

Night 4: Washington Creek Campground near Windigo

Via Greenstone Ridge Trail (about 6.6 miles)
Transportation
Planning a trip to Isle Royale can feel complicated. Figuring out your transportation is the first step. 
Isle Royale is only accessible by seaplane, passenger ferry, or private boat. There are no roads or cars on Isle Royale.
Permits
Permits are required, regardless of group size or method of travel, for all overnight stays at campgrounds, cross country sites, docks, or at anchor. 

Traveling with a group of 7 or more? You will need advanced reservations to camp. Learn more about group camping at Isle Royale. 
Entrance fees
There is no camping fee. There is a daily entrance fee of $7 per day. Plan ahead and pay your fees before your trip. 
Help Isle Royale Stay Wild
Isle Royale is isolated. Services are limited in the park. Be conservative and self-sufficient during your trip.
Cell phone service is unreliable. Do not depend on it.
A State of Michigan fishing license is required to fish Lake Superior; you do not need a license for interior lakes and streams.
Check current conditions in the park before your trip.
Stay hydrated.

Watch the weather. Conditions deteriorate quickly and unexpectedly.

Basic emergency services are available on the island, but response and evacuation take time. Self-reliance is the only immediate option in an emergency.
Leave what you find. Removing, possessing, or disturbing park resources is prohibited. 

Pack it in, pack it out. All trash and leftover food must be packed out of the backcountry.

Store food properly by securing in a hard sided, scent proof container, or doubled zip-lock bags.

Campfires are permitted only at a handful of campgrounds. A backpacking stove is recommended.
Respect wildlife. Observe from a safe distance. It is illegal to feed, touch, tease, or intentionally disturb wildlife, their homes, nests, or activities. 

Dogs, cats, and other mammals are not allowed, including pets on boats within park boundaries.

Mosquitos and black flies peak in June or July and can continue into August. Wasps are common. Bring an epinephrine kit if allergic to stings.