The Civil War on Fort George and Batton Islands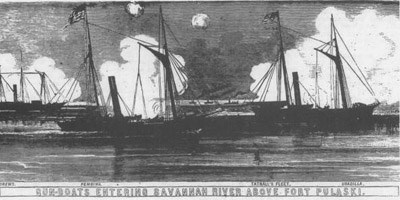 The location of Fort George and Batton Islands at the mouth of the St. Johns River defined how they experienced the Civil War. Following the outbreak of war in April 1861, Union Navy strategists sought to establish a blockade of the Confederate coastline to prevent the South from acquiring war resources through trade with neutral countries. Confederate ports located in North Florida sat only 450 miles from the Confederate-friendly British port of Nassau in the Bahamas, a distance substantially closer to potential trade partners than any other Southern ports. This made the St. Johns River a focal point of the Union Southern Blockading Fleet that operated between captured bases in South Carolina and Florida.
From early 1862 onward, the Union established a forward operating position consisting of at least two gunboats across the river from Fort George and Batton Islands at Mayport. In addition to preventing Southern ships from using the St. Johns, the blockade fleet participated in joint operations with the Union ground forces to periodically occupy Jacksonville, dislodge Confederate forces along the river, raid local plantations, and aid fugitive slaves. These ships served as the main Union force in contact with Fort George and Batton Islands due to an absence of a sizable and permanent Army post along the river until 1864.
The Confederates stationed in coastal Northeast Florida struggled with a lack of necessary manpower, weapons, and provisions to adequately defend against superior Union forces. In response the Confederates abandoned the coast during early 1862 in favor of concentrating forces in interior areas, such as the St. Johns, to defend against further Union penetration into the state. Fort George and Batton Islands lacked the significant Confederate presence of other nearby areas, but saw visits from irregular Confederate guerilla units
Last updated: July 17, 2020