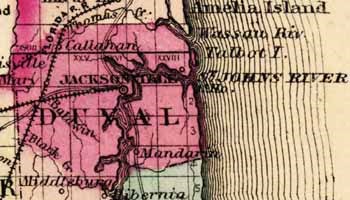 Pilot Town on Batton Island was home to a colony of fugitive slaves that regularly interacted with the Union blockading fleet stationed at the mouth of the St. Johns River and provided black enlistees for the Union military.
"…Anything Like an East Wind, This Bar is Impossible…"
Pilot Town began as a response to the dangerous conditions at the mouth of the St. Johns River. The barrier islands, numerous creeks and difficult channels around the entrance of the St. Johns were typical of many access points to Southern ports. However, the St Johns was not an ideal port when compared to others, such as Fernandina on the St. Mary's River, due to the especially challenging and shifting sand bars that formed over the river mouth that became even more dangerous with tide and weather. A newspaper account detailing the arrival of the Union fleet in early 1862 recorded that "it was so rough and the captain did not know the channel so he did not dare not try to run in… it is well he did not for the channel was so crooked that he could have never found it." Other wartime Union reports recount ships having to wait up to a week or more for the right conditions to safely cross the bar. Pilot Town had been established before the war as a residence for river pilots and their families, including free and enslaved blacks, which guided ocean-going ships into the river. Yet when the Union blockade fleet first arrived to the area, Pilot Town had been abandoned as the result of threatened Confederate reprisals for aiding the enemy. This was likely a part of an early Confederate effort to prevent Union control of the river that also involved the removal of the lenses from the lighthouse and the construction of Fort Steele across the river at Mayport.