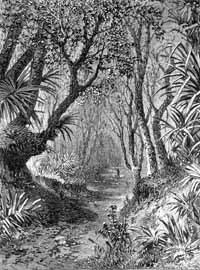 "… There Was a Large Quantity of Cotton…"
At Kingsley Plantation the Union expedition found five thousand pounds of cotton stored on the grounds. During 1862 the blockading fleet adhered to a policy of "taking any public property that may be of military importance to the rebels, but respecting to the utmost private property" to not upset the relatively large contingent of Unionist whites in the Jacksonville area. However by July 1862, a confiscation act passed by Congress provided for the seizure of property belonging to any person who supported the rebellion. The commander of the Southern Blockade Fleet, Rear Admiral Samuel Dupont, viewed this act as "one of those irritating measures which do harm and no good" and indicating that men under his command would not practice "wholesale robberies". Regardless of whether actual practice in the field followed either Dupont's or Congress' directives, cotton was viewed as a source of wealth contributing to the Confederate war effort and therefore was not protected as private property. The expedition recorded that "we did all we could to get [the cotton] away, but after three days of hard work, carrying it nearly ten miles through mud and water, we only succeeded in bringing off some three thousand pounds." The presence of the cotton suggests that Charles Barnwell, Zephaniah Kingsley's grandnephew and owner of the plantation, had slaves on the property during 1861 for the spring planting and fall harvesting. The arrival of the blockading fleet to the St. Johns in the early months of 1862 had most certainly prevented this crop from being shipped.
The Union report did not mention slaves or any Barnwell family members being present at the plantation. By December 27, 1862, the Union Navy had been posting information along the St. Johns for two months regarding Lincoln's Emancipation Proclamation freeing slaves in Confederate States. Furthermore, the Proclamation was just days from taking effect on January 1st 1863. The Union blockading fleet commonly recorded the taking of slaves or arrival of runaways to contraband colonies because it then became the Navy's responsibility to protect and care for these individuals. It is likely that there were no slaves or Barnwell family at the plantation when the Union expedition arrived. Floridians along the St. Johns generally fled coastal areas with their slaves for the interior of the state to discourage runaways or prevent Union confiscation of their slaves. If similar fears had not yet caused Charles Barnwell to remove his slaves following the arrival of the blockade fleet off Fort George Island in March 1862, the establishment of a Union contraband colony mere miles away on Batton Island during the summer of 1862 surely did.