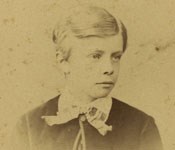 Theodore Roosevelt as a Young Boy
Searching for Theodore Roosevelt on the internet brings up a lot of great photos and stories about the man. You will learn he was the 26th President of the United States. You might read about him leading the "Rough Riders" in the Spanish-American War. But this does not explain why there is a national park in North Dakota named for him. To solve this mystery, we have to learn more about Theodore Roosevelt's younger years.
Before he was president, before he was a Rough Rider, Theodore Roosevelt was a young boy growing up in New York City. He would explore the fields and forests around his home. He collected insects, bird eggs, mice, turtles and more to include in his "Roosevelt Museum of Natural History." Young Theodore made notes and sketches in his journal about these animals. He kept the animals in his room. His parents did not appreciate the strange sounds and smells of Theodore's room!