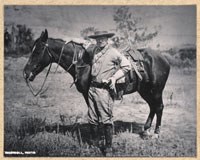 Roosevelt the Rancher
Before he returned to Dakota, a tragic thing happened to Theodore Roosevelt. Both his wife and mother died on Valentine's Day in 1884. Heart-broken, he left New York in the spring for Dakota. He worked as a rancher and earned the respect of the people there. Over the next few years, Roosevelt traveled between New York and Dakota. He thought of leaving politics to become a full-time rancher.
Theodore was getting older, but he still loved the same things from when he was a boy. He went hunting, studied animals, and wrote many stories. He noticed many animals became hard to find. He saw how people destroyed habitats and killed animals like bison for no good reason. Roosevelt liked hunting, but only for sport or food. Hunting was a way for him to be outside and learn about nature. He wrote books about the trips he took. He began to build what we now call his "conservation ethic."
An ethic is what a person believes. It helps them make decisions about what is right or wrong. Conservation means to conserve or save. His time as a rancher helped Roosevelt develop his ideas about saving nature and wildlife. When Theodore went back into politics, conservation was an important goal for him. He wanted to save forests and rivers not just for animals, but for people too.