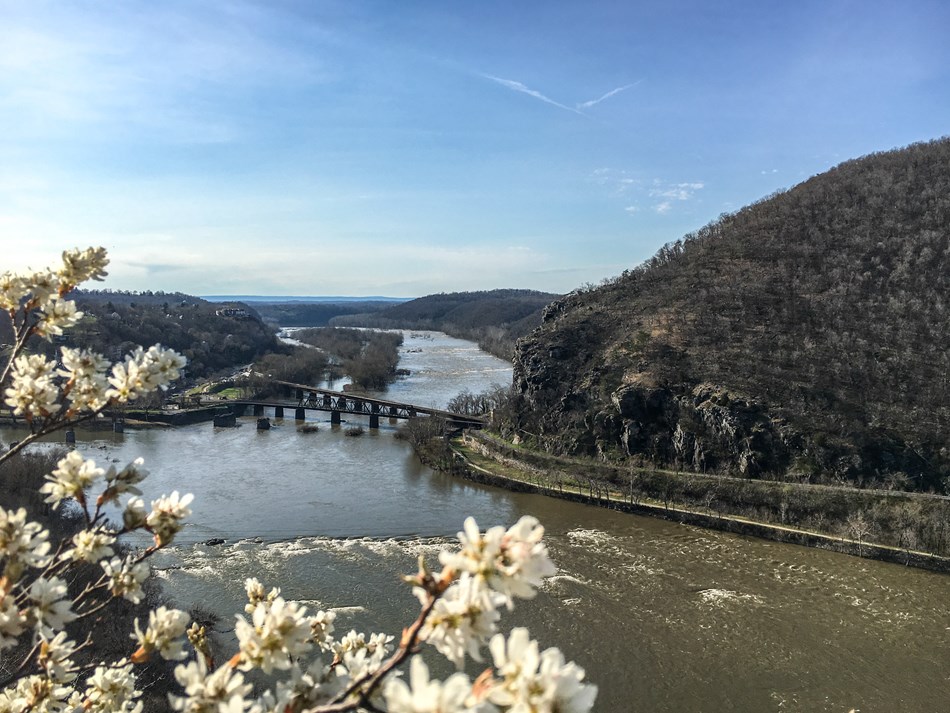 Overview
It is just under 40 miles from the
Chesapeake and Ohio Canal
's Cushwa Basin in Williamsport to Harpers Ferry, WV. The towpath (pictured along the roadway on the right side of the rail bridge in the picture) runs along the Maryland side of the Potomac, but the Historic Harpers Ferry is only a quick stair-climb and walk across the bridge away.
Accommodations, restaurants, and interpretive tours for the
Harpers Ferry National Historical Park
are also available. If you want to take a break from riding, enjoy a challenging climb with breathtaking views on either
Loudon or Maryland Heights
.
To Start:
Choose your starting point, and either drop a car on one end or the other before hitting the towpath (alternatively, arrange with an outfitter to drop you off on one end and have your car waiting for you on the other end). Ample parking is available in Harpers Ferry's Visitor center parking lot across the rail bridge and off of route 340. Parking is also readily available at Cushwa Basin visitor center in Williamsport.
Free, one-night stays are available at hiker-biker sites along the towpath at regular intervals. There are also several overnight accommodations available both in Harpers Ferry and Willamsport.
Consider a relaxed pace that allows you to stop over in Shepherdstown, either for lunch or for the night. Shepherdstown is accessed by taking Canal Rd up from Lock 38 to Route 34, and making a left over the bridge. Across Route 34 from Canal road is
Ferry Hill Plantation
, once home to Henry Kyd Douglas.
When in Harpers Ferry, don't forget to visit the famous Jefferson Rock, or tour the historic graveyard on the hill. In Williamsport, stop by the Cushwa Basin Visitor Center from March-November, and enjoy a bite to eat from one of the local restaurants less than half a mile up US Route 11.