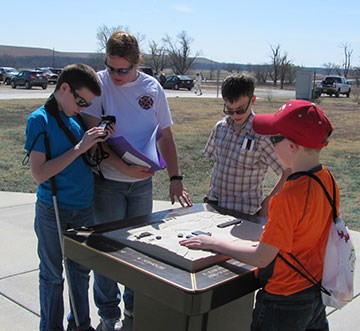 Accessible Hiking Trails Using Trekker Breeze+ Hand-held Units
All forty miles of hiking trails and the cultural ranch site are now accessible to visitors with visual impairments using the hand-held device called Trekker Breeze+.
Using GPS technology, the preserve's hiking trails and ranch site can now be enjoyed by all, opening up a new interpretive program. Different paths and courses have been created using text to voice, recorded animal sounds, bird calls, and guiding information and directions. Hear the sound made by the bison, bird calls, coyotes, and the voice of a park ranger telling about the natural and cultural resources that make up the preserve. These pieces all lend themselves to a greater understanding and appreciation for the nearly 11,000 acres of natural and cultural resources.
Come to the visitor center to check out a Trekker Breeze, returning unit by 4:00 p.m. Let us know about your experience.