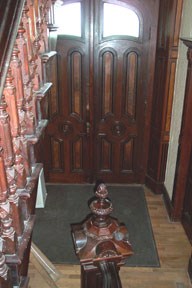 Lowest Level - Foyer Area and Parlors
The parlor was historically used for formal entertaining; the grandest room in the house.

This photo shows a view of the foyer area inside the Spring Hill Ranch house. The wooden newel post and doors were hand carved.

South Parlor for Family
Family and close friends to the Spring Hill Ranch entered the home through the front and were entertained in the south parlor.
North Parlor for Company
Formal guests were ushered into the north parlor where the interior finishes were more exquisite.