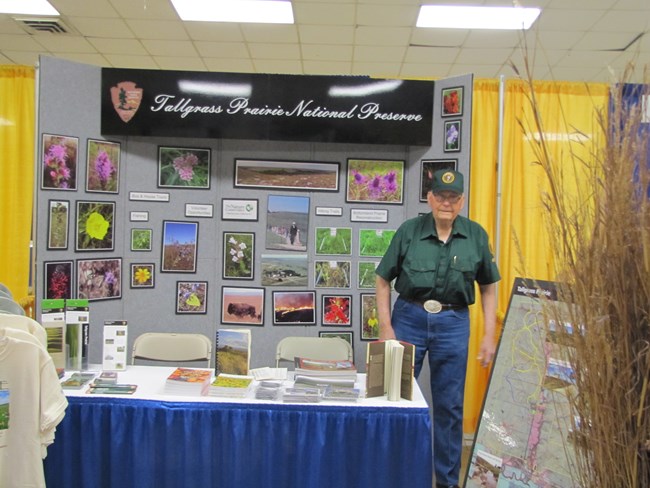 Volunteer in the Parks Program
Volunteer to be a part of our staff at Tallgrass Prairie National Preserve, which serves over 20,000 visitors each year!
Each year millions of visitors enjoy our national parks. Today, the National Park Service includes over 400 sites. Employees have been challenged with a dual mission of conserving and protecting our natural, historical, and cultural resources, as well as providing recreational opportunities. Many individuals assist our parks and their employees by volunteering their time and talents. Those who work in partnership with park employees are called Volunteers-In-Parks, or VIPs.

At Tallgrass Prairie National Preserve volunteers work side-by-side with National Park Service employees at the Park Headquarters/Spring Hill Ranch, in the tallgrass prairie, and at the Lower Fox Creek School. VIPs may work on week days, weekends, mornings, or afternoons. The schedule and amount of time worked will be negotiated. Training for all duties is provided, as well as uniforms for volunteers who work with the public.

As a volunteer, you will not be paid by the federal government. However, you will have the benefit of working with a national park, and there will be other rewards as well. Volunteers are not considered to be federal employees for any purposes other than tort claims and injury compensation. You will meet people from all over the United States and abroad. Also, you will have the opportunity to make the most of your talents, while developing new skills and gaining experiences that will enrich your life and assist you in the present or in future careers.
Volunteer opportunities abound as you may choose from working the Visitor Center desk, presenting living history demonstrations, volunteering at the Lower Fox Creek schoolhouse, assisting with Education Programs, working in the tallgrass prairie, researching special history projects, storytelling, conducting Oral History Interviews, etc. If you would like to volunteer and have a talent or skill not listed above, please contact Chief of Interpretation, Heather Brown at 620-273-6034, ext. 241.
Applying to Volunteer
It is very easy to apply. Visit this link for a Volunteer-In-Parks Application or go online and complete via the web. Please be specific in describing your talents, skills and interests; this makes it much easier to place you. Once your application is completed, send it to the address shown below. It will be reviewed to determine if your skills and our needs match. Should you have any questions, please contact Heather Brown at (620) 273-6034 ext. 241.
Tallgrass Prairie
National Preserve
ATTN: Heather Brown
2480B KS Hwy 177
Strong City, KS 66869
---