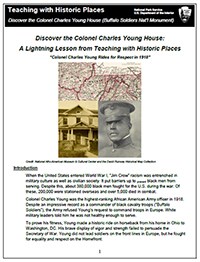 Contents
| Introduction
| Materials in the Lesson (Maps, Readings, Visual Evidence)
| Post-Lesson Activities
| Where it Fits Into the Curriculum (Objectives and Standards)
| More Resources
| About
What motivated African Americans to volunteer for a segregated military during WWI

?
When the United States entered World War I, segregation was entrenched in military culture as well as civilian society. It put barriers up to prevent African Americans from enlisting. Despite this, about 380,000 African Americans served in the U.S. military during the war.

Colonel Charles Young was the highest-ranking African American Army officer in 1918. Despite an impressive leadership record, the Army refused Young's request to command troops in Europe. Military leaders told him he was not healthy enough to serve.

To prove his fitness, Young made a difficult ride on horseback from his home in Wilberforce, Ohio to Washington, D.C. His brave display failed to persuade the Secretary of War. Young did not lead soldiers in Europe, but he fought for respect on the Homefront.