Seashores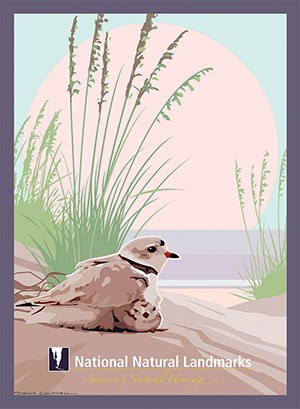 Simply defined, the seashore is the meeting place of land and sea. These dynamic areas can be comprised of sand, mud, shells, pebbles or even hard bedrock substrate. Formed by sediments deposited by ocean currents and sculpted by erosion, our nation's seashores are some of the most spectacular in the world.
Fluctuating ocean tides provide specialized habitat and feeding grounds for insects, crustaceans, birds and many other animals. Seashores additionally provide a unique opportunity for people to connect with our natural heritage.
National Natural Landmarks, from California's rugged Nipomo Dunes-Point Sal Coastal Area, to the sandy beaches of Wassaw Island in Georgia, illustrate the diversity of seashore landscapes.
Some of these include:
Cape Taputapu, AS
Le'ala Shoreline, AS
Año Nuevo Point and Island, CA
Nipomo Dunes-Point Sal Coastal Area, CA
Point Lobos State Reserve, CA
Trona Pinnacles, CA
Lignumvitae Key, FL
Reed Wilderness Seashore Sanctuary, FL
Waccasassa Bay State Preserve, FL
Wassaw Island, GA
Fouha Point, Guam
North Shore Cliffs, HI
Gay Head Cliffs, MA
Muskeget Island, MA
Bear Island, NC
Smith Island, NC
Cabo Rojo, PR
Mona and Monito Islands, PR
St. Phillips Island, SC
Point of Arches, WA
Sandy Point, VI
Last updated: January 28, 2022