National Natural Landmarks
North Shore Cliffs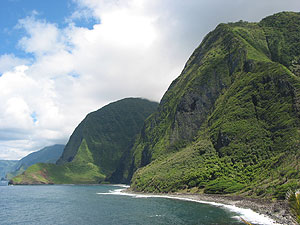 North Shore Cliffs. Photo by S. Henrickson.
North Shore Cliffs provides the finest exposures of ancient volcanic rocks resulting from the major episode of volcanism creating Molokai Island. It is among the most ancient in the Hawaiian Island chain.
Location: Molokai Island, HI ; Molokai County, HI
Year designated: 1972
Acres: 27,100
Ownership: Federal, State, Private
---
← Back to listing of all states and territories.
Please remember, National Natural Landmarks (NNLs) are not national parks. NNLs are owned by a variety of public and private entities and allowing visitation is at their discretion. Many NNL sites maintain public websites where additional information may be found.