National Natural Landmarks
Gay Head Cliffs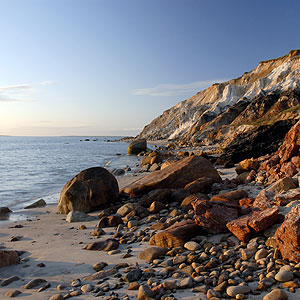 Gay Head Cliffs. Photo by K. McLeod.
The colorful Gay Head Cliffs, resting upon the continental shelf, yet detached from the mainland, rise to 150 feet above sea level and provide a cross-section of pre-glacial sediments overlain by fossil-bearing sands. It is the most extensive and scenic exposure of Cretaceous and Tertiary formations on the New England islands and Cape Cod.
Location: Dukes County, MA ; Dukes County, MA
Year designated: 1965
Acres: 20
Ownership: Indian Trust (Wampanoag Tribe)
---
← Back to listing of all states and territories.
Please remember, National Natural Landmarks (NNLs) are not national parks. NNLs are owned by a variety of public and private entities and allowing visitation is at their discretion. Many NNL sites maintain public websites where additional information may be found.