National Natural Landmarks
Cabo Rojo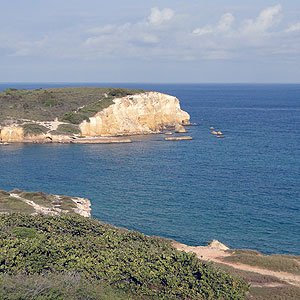 Cabo Rojo
The scenic Cabo Rojo site is an excellent example of a tombolo (tied island) with two sand spits. The landform resembles a large letter Y with a bar across the top enclosing a salt water lagoon. The site includes mangroves, beaches, reddish cliffs, xeric vegetation and seabird nesting habitat.
Location: Puerto Rico, PR ; Puerto Rico , PR
Year designated: 1980
Acres: 607
Ownership: Commonwealth of Puerto Rico, Municipal
---
← Back to listing of all states and territories.
Please remember, National Natural Landmarks (NNLs) are not national parks. NNLs are owned by a variety of public and private entities and allowing visitation is at their discretion. Many NNL sites maintain public websites where additional information may be found.