National Natural Landmarks
Wassaw Island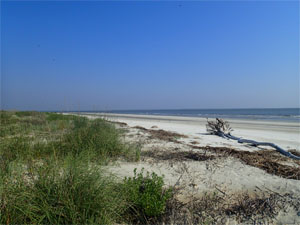 Wassaw Island
Wassaw Island is the only island of the Golden Isles with an undisturbed forest cover. Located primarily within the Wassaw National Wildlife Refuge, it is one of the few remaining sea island ecosystems where natural processes of succession, erosion and deposition, relatively unaffected by human activities, are demonstrated. The vast salt marsh that lies between the sea island and the mainland is rich in biological productivity, sustaining a wide array of unusual animals.
Location: Chatham County, GA ; Chatham County, GA
Year designated: 1967
Acres: 15,505
Ownership: Federal, Private
---
← Back to listing of all states and territories.
Please remember, National Natural Landmarks (NNLs) are not national parks. NNLs are owned by a variety of public and private entities and allowing visitation is at their discretion. Many NNL sites maintain public websites where additional information may be found.