Celebrating 60 years
This year, 2022, marks 60 years of recognizing and encouraging the conservation of America's natural heritage through the National Natural Landmarks (NNL) Program. On May 18, 1962, Interior Secretary Stewart Udall established the program. Six decades later, with the support of landowners, stewards and local communities there are over 600 designated NNL sites. Please join us in celebrating 60 years of the National Natural Landmarks Program!
Visit our keyboard shortcuts docs for details
Duration:

2 minutes, 5 seconds
The National Natural Landmarks Program (NNL) turns 60 in 2022 and the landmarks wanted to join in the celebration! Watch this short video of landmarks from around the nation wishing the NNL program happy anniversary.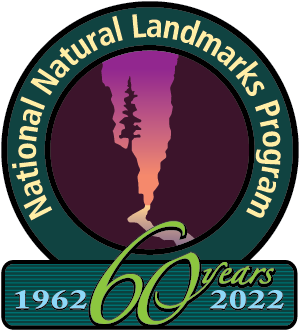 Join the Celebration
We are excited about 60 years of partnering for conservation! We hope you will join us in the celebration of this milestone by learning more about National Natural Landmark (NNL) sites, visiting a nearby NNL, or helping spread the word through social media or hosting an event.

Here are some ideas to help in your celebration:
Check out and share the anniversary News Release.
Download and use the specially designed NNL Program 60th Anniversary Logo as part of your celebration events or outreach.
Post your stories, events, and photos on social media! We encourage you to connect by using #NNL60 and #nationalnaturallandmark.
Add the NNL webpage link (www.nps.gov/nnlandmarks) to your NNL's website to connect online vistors to the broader NNL community.
Connect online visitors with ways they can be a part of conservation from home.
Distribute NNL program materials (see resources available below).
Plan an anniversary event! If you manage an NNL site, consider hosting activities such as an interpretive nature walk to share your site's significant resources, organize a stream or trail cleanup, or throw a conservation party!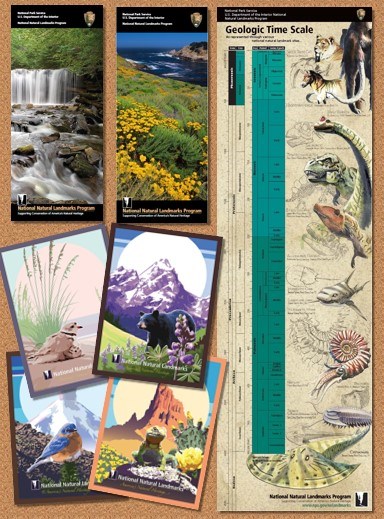 Resources for Celebration
The NNL program has a variety of educational and outreach materials to help engage visitors of all ages whether at your site, at home or in a classroom. For printed copies of these materials, please contact your regional NNL coordinator about availability.
Explore Anniversary Art
National Natural Landmark sites represent some of the best examples of the diverse biological and geological features that define our natural world. Each landmark is unique and offers a glimpse into the natural history of America.

As part of the 60th anniversary, a new commemorative artwork will be released every 60 days throughout 2022 to highlight the beauty and diversity of National Natural Landmarks and the resource types they contain - starting with Glaciers in January 2022. These pieces are part of the Illustrating America's Natural Heritage series.

Be sure to check back throughout the year as artwork featuring Springs, Bogs, Estuaries, Fossils, and Forests are revealed.
Last updated: December 5, 2022