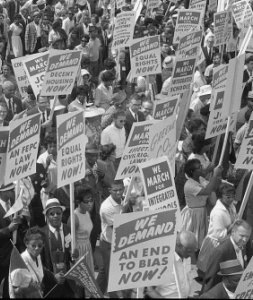 It was the largest gathering for civil rights of its time. An estimated 250,000 people attended the March on Washington for Jobs and Freedom on August 28, 1963, arriving in Washington, D.C. by planes, trains, cars, and buses from all over the country. The event focused on employment discrimination, civil rights abuses against African Americans, Latinos, and other disenfranchised groups, and support for the Civil Rights Act that the Kennedy Administration was attempting to pass through Congress. This momentous display of civic activism took place on the
National Mall
, "America's Front Yard" and was the culmination of an idea born more than 20 years before.
While the March was a collaborative effort, sponsored by leaders of various student, civil rights, and labor organizations, the original idea came from
A. Philip Randolph
, a labor organizer and founder of the Brotherhood of Sleeping Car Porters and the Negro American Labor Council (NALC). His vision for a march on the Nation's Capital dated to the 1940s when he twice proposed large-scale marches to protest segregation and discrimination in the U.S. military and the U.S. defense industry and to pressure the White House to take action. The pressure worked. President Roosevelt signed Executive Order 8802 (Prohibition of Discrimination in the Defense Industry, 1941) and President Truman signed Executive Order 9981 (Desegregation of the Armed Forces, 1948), and Randolph cancelled the marches.
By the 1960s, a public expression of dissatisfaction with the status quo was considered necessary and a march was planned for 1963, with Randolph as the titular head. Joining Randolph in sponsoring the March were the leaders of the five major civil rights groups: Roy Wilkins of the National Association for the Advancement of Colored People (NAACP),
Whitney Young
of the National Urban League (NUL),
Martin Luther King, Jr.
of the
Southern Christian Leadership Conference
(SCLC), James Farmer of Congress On Racial Equality, and
John Lewis
of the Student Nonviolent Coordinating Committee (SNCC). These "Big Six," as they were called, expanded to include
Walter Reuther
of the United Auto Workers (UAW),
Joachim Prinz
of the American Jewish Congress (AJC), Eugene Carson Blake of the Commission on Religion and Race of the National Council of Churches, and Matthew Ahmann of the National Catholic Conference for Interracial Justice. In addition,
Dorothy Height
of the National Council of Negro Women participated in the planning, but she operated in the background of this male dominated, leadership group.