Person
John Fitzgerald Kennedy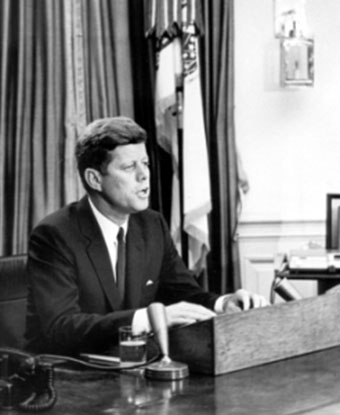 Significance:
35th President of the United States
Place of Birth:
Brookline, MA
Date of Birth:
May 29, 1917
Place of Death:
Assassination; Dallas TX
Date of Death:
November 22, 1963,
Place of Burial:
Arlington, VA
Cemetery Name:
Arlington National Cemetery
John F. Kennedy (1917 -1963) was born in Brookline, Massachusetts, into a large, ambitious Irish-Catholic family. Following graduation from Harvard in 1936, Kennedy was a Lieutenant in the U.S. Navy, where he demonstrated exceptional courage after his boat was sunk by a Japanese destroyer.
Kennedy served three terms in the U.S. House of Representatives before being elected to the Senate in 1952. He married Jacqueline Bouvier in 1953 and in 1955, his book Profiles in Courage won the Pulitzer Prize in history.
In 1960, Kennedy became the youngest man elected as President of the United States and the first Catholic. In his inaugural speech he spoke of the need for all Americans to be active citizens: "Ask not what your country can do for you, ask what you can do for your country." The Kennedy White House fostered a new American idealism, celebrating culture and history, launching a space initiative and the service-oriented Peace Corps. There were national crises, however, including nuclear threats, Soviet missiles in Cuba, and roiling protests calling for action on civil rights. Peaceful protests turned into violent clashes that shocked the nation.
In a televised address on June 11, 1963, President Kennedy launched his initiative for civil rights legislation, calling on Americans to end racism and saying "One hundred years of delay have passed since President Lincoln freed the slaves, yet their heirs, their grandsons, are not fully free." A week after his speech, Kennedy submitted a bill to Congress addressing civil rights.
On November 22, 1963, barely past his first thousand days in office, John Fitzgerald Kennedy was assassinated as his motorcade drove through Dallas, Texas.
Last updated: December 4, 2020