Person
Whitney M. Young, Jr.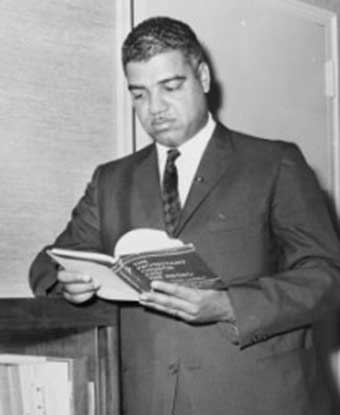 Significance:
head of the National Urban League (NUL) during its most progressive period (1961-1971).
Date of Birth:
July 31, 1921
Place of Death:
Lagos, Nigeria
Date of Death:
March 11, 1971
Whitney M. Young, Jr. was head of the National Urban League (NUL) during its most progressive period (1961-1971). Born in 1921, Young graduated from the Lincoln institute in 1937 and Kentucky State in 1941, earning a Master's Degree from the University of Minnesota in 1947. He spent most of his career working to end employment discrimination in the United States and changing the NUL into a more proactive organization.
Young was appointed to head the NUL in 1961, a position he would hold until his untimely death in 1971 at the age of 49. During the decade of Young's leadership the organization experienced pronounced growth, which included a nearly twenty-fold increase in its annual budget from $325,000 to over $6,000,000, and an increase in staffing from three dozen employees to more than a thousand. Young also moved the organization to the forefront of the civil rights movement. Prior to Young's tenure, the NUL held a cautious stance regarding civil rights issues.
Young was one of the most influential leaders of the 1963 
March on Washington for Jobs and Freedom
 and a member of the legendary "Big Six" civil rights leadership team. Planners for the March used the NUL headquarters office in New York for their meetings and Young served as a featured speaker. Following the March, Young advocated for federal assistance to cities combating poverty. He developed a 10-point domestic program, the "Domestic Marshall Plan" as a strategy for combating poverty and closing the wealth gap between Black and White Americans. Young's plan was influential to President Johnson's War on Poverty and was partially incorporated into the legislation. In 1968, the Johnson administration awarded Young the Presidential Medal of Freedom, the nation's highest civilian honor.
Last updated: November 14, 2018