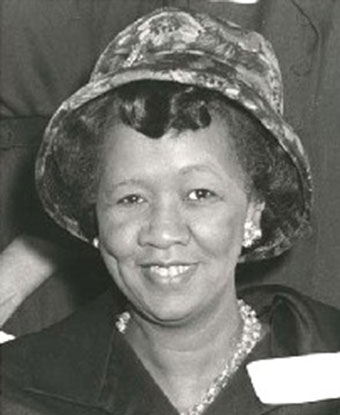 Significance:
co-organizer of the 1963 March on Washington; 40 year president of the National Council of Negro Women
Place of Birth:
Richmond, Virginia
Date of Birth:
March 24, 1912
Place of Death:
Washington, DC
Date of Death:
April 20, 2010)
Place of Burial:
Colmar Manor, Maryland.
Cemetery Name:
Fort Lincoln Cemetery
Dorothy Height is recognized as one of the most influential women in the modern civil rights movement. Born in 1912, she graduated fromRankin High School in Pennsylvania in 1929 and attended New York University, Columbia University, and the New York School of Social Work. Height began her efforts as a civil rights activist at the age of twenty-five when she joined the National Council of Negro Women. Throughout her life she fought for equal rights for both African Americans and women. During the 1930s she was an activist against lynching and for reforms to the criminal justice system.
In 1957, Height was appointed president of the National Council of Negro Women, which she led for 40 years. As head of the Council during the most critical years of the civil rights movement, she instituted a variety of social programs aimed at improving the quality of life of African Americans in the South. Height is also credited with being the first person in the movement to view the problems of equality for women and equality for African Americans as a whole, merging issues that had been historically separate. Her focus on political mobilization was vital for African American women who were not able to engage in politics at a level on par with their white counterparts. A prize-winning orator in her own right, Height fostered dialogue and communication between black and white women and was an effective mediator during disputes in planning meetings with leaders of varying philosophies. She was the only woman to serve regularly alongside the "Big Six" on major civil rights projects. Although she was not featured as a speaker during the March on Washington in 1963, Height was one of the event's chief organizers and represented the only women's organization recognized in the March.
During the 1960s and 1970s, Height served on a number of committees, including the President's Committee on the Employment of the Handicapped, and the Presidential Commission on the Status of Women. In 1974, she was named to the National Council for the Protection of Human Subjects of Biomedical and Behavioral Research, which published The Belmont Report, a response to the infamous Tuskegee Syphilis Study. She was awarded the Presidential Medal of Freedom in 1994, and the Congressional Gold Medal in 2004 for her civil rights activism. Dorothy Height passed away on March 25, 2010 at the age of 98.
Last updated: July 15, 2020