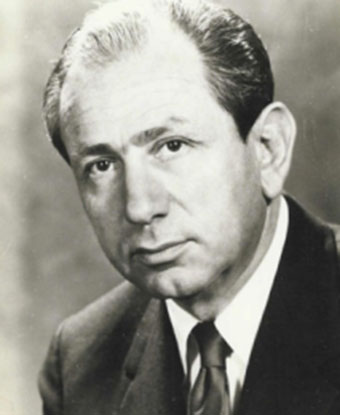 Significance:
co-organizer of March on Washington, Civil Rights leader
Place of Birth:
Burkhardsdorf, Upper Silesia (now part of Poland)
Date of Birth:
May 10, 1902
Place of Death:
New Jersey
Date of Death:
September 30, 1988
Place of Burial:
Union County, NJ
Cemetery Name:
Bnai Abraham Memorial Park
Rabbi Joachim Prinz (1902-1988) was a leading voice against discrimination during the middle of the 20th century. Born in Burkhardsdorf, Upper Silesia (now part of Poland), Prinz became a rabbi in Berlin in 1925. During his tenure, he was a well-recognized figure and combined the learned traditions of the rabbinate with a populist touch. An outspoken opponent of the rising National Socialists' German Workers (NaziI) Party, Prinz pleaded with his and other Jewish communities to pay attention to the vitriolic rhetoric coming from the party and its leader, Adolph Hitler. His activism led to his expulsion from Germany in 1937; however his concerns proved correct for Jews across Europe.
After his expulsion, Prinz immigrated to the United States and became rabbi of Temple B'nai Abraham in Newark, New Jersey in 1939. He was a dynamic force nationally, serving as president of the American Jewish Congress from 1958 to 1966. He saw the plight of African American and other minority groups in the context of his own experience under the Nazis. From his early days in Newark, a city with a very large minority community, he spoke from his synagogue about the disgrace of discrimination. He joined picket lines across America protesting racial prejudice from unequal employment to segregated schools, housing, and all other areas of life. Prinz met Martin Luther King, Jr. in 1958 and recognized a kindred spirit. He was one of the organizers of the March on Washington and stated in his speech at the Lincoln Memorial that "the most urgent, the most disgraceful, the most shameful and the most tragic problem is silence."
Last updated: September 14, 2017