Person
Dr. Martin Luther King, Jr.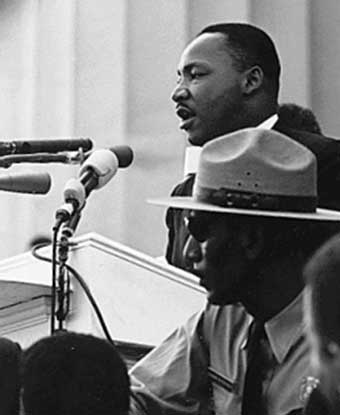 Significance:
transformational leader of the American Civil Rights movement
Place of Birth:
Atlanta, GA
Date of Birth:
January 15, 1929
Place of Death:
Assassinated, Memphis, TN
Date of Death:
April 4, 1968
Place of Burial:
Georgia; Southview Cemetery then moved to the King Center
Dr. Martin Luther King, Jr. (1929-1968) was the nation's most prominent leader in the 20th century struggle for civil rights. He was born in the segregated south of Atlanta, Georgia and after graduating from Morehouse College, Crozer Theological Seminary, and Boston University he entered the Christian ministry. He married Coretta Scott King in 1953, and became a pastor in Montgomery, Alabama. In 1954, he joined the leadership of the local NAACP chapter, the Montgomery Improvement Association, and helped create the Southern Christian Leadership Conference (SCLC), an organization formed to provide leadership for the burgeoning civil rights movement.
Following Rosa Parks' arrest in 1955 for refusing to move to the back of a bus in Montgomery, he organized a year-long bus boycott. The "Montgomery Movement" led to the integration of the city's buses and launched a non-violent protest movement that spread across the United States. King, along with Fred Shuttleworth and others led the Birmingham Campaign to desegregate Birmingham, Alabama. The brutality displayed towards the Campaign's demonstrators and King's "
Letter from a Birmingham Jail
", written while he was incarcerated, brought national and international attention to the civil rights movement. Ultimately, King was arrested 30 times for his participation in civil rights activities. In 1963, he was one of the organizers for the 
March on Washington
 and the following year he received the Nobel Peace Prize. In 1965, King helped to organize the Selma to Montgomery marches. He worked tirelessly to assure the passage of the 
Civil Rights Act of 1964
 and was in attendance when President Johnson signed both that Act and the Voting Rights Act of 1965 into law. In the final years of his life, he expanded his focus to include poverty and the Vietnam War.
In 1968, Martin Luther King was assassinated while in Memphis, Tennessee, to help striking sanitation workers. His legacy lives on and his writings and speeches, including "I Have a Dream", from the March on Washington and "I've Been to the Mountaintop," given just hours before his death, continue to inspire new generations.
Last updated: November 26, 2022