The Railroad at Stones River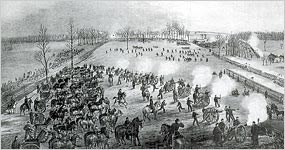 Completed in January 1854, the Nashville and Chattanooga Railroad played a crucial role in shaping the landscapes of Stones River National Battlefield.
The raised track bed was the scene of some of the most important fighting of the Battle of Stones River. Union cannons massed on the high ground along the railroad turned back the Confederate tide before it reached the Nashville Pike and the tracks.
After the battle, the railroad served as a vital artery of supply for Union forces advancing into the Deep South. Years after the war, the company took a leading role in preserving and interpreting the battlefield.
Last updated: April 14, 2015