Rails of Plenty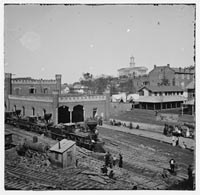 Railroads transported tons of supplies and thousands of soldiers and animals during the Civil War.
During the Army of the Cumberland's campaigns from Murfreesboro to Chattanooga, hundreds of rail cars brought food, weapons, clothing, and other supplies to Fortress Rosecrans and other depots in middle Tennessee and northern Alabama. Wagon trains and railroad trains then moved the supplies from the depots to the army.
The Nashville and Chattanooga Railroad remained an important artery in the federal supply system during the Atlanta Campaign and the March to the Sea.
Last updated: April 14, 2015