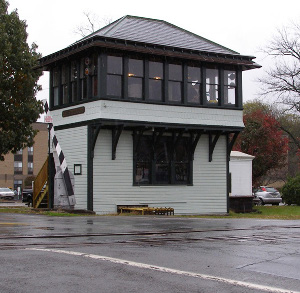 News Release Date:
June 2, 2015
Contact: Train Info & Reservations, 570-340-5204
SCRANTON, Pa. – Steamtown National Historic Site is planning a train excursion to East Stroudsburg, Pennsylvania on Saturday, June 6.
Join us for a train ride that follows Roaring Brook, through Nay Aug Tunnel, crosses numerous bridges and passes alongside ponds and lakes onto the Pocono Mountains plateau, then eases down the dramatic grade (hill) between Pocono Summit and East Stroudsburg. The Eastburg Community Alliance has planned a variety of events and activities to take place at the restored Dansbury Depot and in downtown East Stroudsburg, including a presentation on the history of the Delaware, Lackawanna and Western (DL&W) Railroad in the Poconos. The historic railroad switching tower, located near Analomink Street and built by the DL&W in 1908, while no longer in use, will also open for tours. Powered by a historic diesel locomotive, the trip will depart Steamtown at 9:00 a.m. and return at 5:00 p.m. Ticket prices are $54.00 for adults 16 to 61, $49.00 for seniors 62 and older, and $32.00 for children aged 6-15. Children 5 and younger require a "no-charge" ticket. Phone 570-340-5204 daily, 9:00 a.m. – 4:00 p.m., for reservations.
Located in downtown Scranton, Pa., Steamtown NHS is open daily from 9:00 a.m. – 5:00 p.m. From I-81 follow exit 185 (Central Scranton Expressway); then, follow the brown and white signs to the park entrance at Lackawanna and Cliff Avenues (GPS: N 41.41, W 75.67). General park information is available by phoning (570) 340-5200 during regular business hours, or by visiting the Park website anytime at www.nps.gov/stea.
www.nps.gov/stea
About the National Park Service. More than 20,000 National Park Service employees care for America's 407 national parks and work with communities across the nation to help preserve local history and create close-to-home recreational opportunities. Visit us at www.nps.gov, on Facebook www.facebook.com/nationalparkservice, Twitter www.twitter.com/natlparkservice, and YouTube www.youtube.com/nationalparkservice.