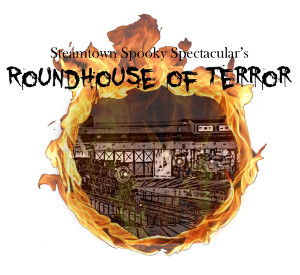 News Release Date:
September 29, 2016
Contact: Evening "Roundhouse of Terror" Info & Reservations:, 570-344-3841
Contact: Media Contact: Bill Nalevanko, 570-241-8258
SCRANTON, Pa.– Calling all ghosts and goblins, witches and wizards, pirates and princesses! On Saturday, October 29 and Sunday, October 30, Steamtown National Historic Site, downtown Scranton, will partner with the city's Lackawanna Historical Society to host "Spooky Spectacular" special Halloween events at the park!
On Saturday, October 29, daytime family-friendly activities are planned for children, most suitably for ages 6-15. Children of all ages, though, are invited to visit in Halloween finery. Spooky-storytelling and movies suitable for younger viewers will be shown in the park's theater. Trick-or-treaters can also follow clues to find "ghoulish goodie stations" (while supplies last) throughout the park during a "Trick-or-Train Treasure Hunt." Visitors can also take the "spooked out" "Scranton Limited" short train ride for an additional fee.
Additionally, for creative types, the "Pumpkins on Parade" event is for you! Visitors are encouraged to participate in this Lackawanna Historical Society-sponsored contest by bringing a carved pumpkin to the park between 10 a.m. and 12 p.m. on Saturday, October 29 to enter. Jack-o'-lanterns will be judged in the following categories: Best Historical Theme;Most Creative;Funniest;and Scariest.Winners will be selected by a panel of three special judges on Saturday at 6 p.m. Jack-o'-lanterns can remain on site for all visitors to enjoy and admire until Monday, October 31. (Entrants wishing to keep their jack-o'-lanterns may do so by retrieving them at the park prior to 5 p.m. on Halloween Day, Monday.)
On Sunday, October 30 daytime activities are for the young-at-heart Halloween haunter. Adults especially are encouraged to dress in their ghoulish garb to watch old-time scary B-movies and, for an extra fee, enjoy a short train ride aboard the "Nay Aug Limited." Each ride will feature Edgar Allen Poe reciting, "The Raven," and visitors will have the opportunity to chat with actor Dan Yeager who portrayed "Leatherface" in the movie, "Texas Chainsaw Massacre 3-D."
Park fees for both daytime events include the $7 entrance fee for all, ages 16 and above; children ages 15 and younger are free with an accompanying adult. The "Scranton/Nay Aug Limited" short train rides cost an additional $5 for all ages 6 and above. Tickets for the park's daytime activities are available as walk-up sales each day (no advance reservations). For more information, phone 570-340-5204, 9 a.m. – 4 p.m. daily.
Then, for the adventurous after-dark crowd, the Lackawanna Historical Society will present an evening event, "Roundhouse of Terror," at the park on both dates, from 6:30 p.m. – 8:45 p.m. Take a ghostly, guided tour of the haunted historic roundhouse where you'll explore old and breathing locomotives – or ARE they? What WAS that sudden "bump in the night?"  As you walk through the dark, dank building you may see the ghost of Miss Phoebe Snow or an eerie engineer tending his locomotive. But remember: Expect the unexpected while in this area! The evening event is not recommended for persons under 16 years of age or those with serious medical conditions. Tickets for this special evening event are $20 per person, all ages 16 and older, and are limited. Information, tickets and reservations are ONLY available by contacting the Lackawanna Historical Society at 570-344-3841, Tuesdays – Fridays, 10 a.m. – 5 p.m. or Saturdays, 12 p.m. – 3 p.m. (closed Sundays and Mondays).
Located in downtown Scranton, Pa., Steamtown NHS is open daily from 9:00 a.m. – 5:00 p.m. From I-81 follow exit 185 (Central Scranton Expressway); then, follow the brown and white signs to the park entrance at Lackawanna and Cliff Avenues (GPS: N 41.41, W 75.67). General park information is available by phoning (570) 340-5200 during regular business hours, or by visiting the park website anytime at www.nps.gov/stea.