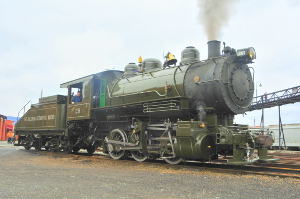 News Release Date:
April 7, 2016
Contact: Media Contact: Bill Nalevanko, 570-241-8258
Contact: Train Info & Reservations, 570-340-5204
Scranton, Pa. - Steamtown National Historic Site will host an entrance fee-free week to celebrate National Park Week from Saturday, April 16 through Sunday, April 24. This year is the National Park Service's centennial, and we invite your family to "Find Your Park." All indoor and outdoor exhibit areas and park museum facilities including guided tours and the park movie, "Steel and Steam," are included in the entrance fee-free week.
On April 16, as part of a "Phoebe Snow Gala" that will be presented by the Friends of Northeast Railroading Association at the Radisson at Lackawanna Station Hotel, National Park Service rangers will conduct two tours of the historic faience tiles of the hotel's lobby at 11:30 a.m. and 2:30 p.m. The faience tiles, in the hotel's former railroad's waiting room, depict various locations associated with the Delaware, Lackawanna and Western Railroad route between Hoboken, New Jersey and Buffalo, New York. "Phoebe Snow" was a fictional advertising character used to promote travel aboard the railroad's "clean, anthracite-burning" steam locomotives. The park historian will also provide opportunities for the public to ask questions about the former train station. For further information about, and tickets to, the Friends of Northeast Railroading Association's "Phoebe Snow Gala," please phone 215-757-7355. Note that the Steamtown NHS "Scranton Limited" short train rides will NOT operate on Saturday, April 16.
On Sunday, April 17, Steamtown NHS will kick-off National Park Week with the rededication of Baldwin Locomotive Works No. 26 steam locomotive. The ceremony will celebrate the return of the 1929 0-6-0 "switcher" locomotive to service.While the park will open at 9:00 a.m., the festivities will begin at 11:00 a.m., and will include a ribbon-cutting ceremony, free commemorative baseball-type cards of the locomotive's history and statistics, and a special photo exhibit in our Technology Museum that documents the locomotive's restoration."Scranton Limited" short train rides within the Steamtown NHS yards will be powered by the newly-restored locomotive that day, and will operate continuously between 12:30 p.m. and 4:00 p.m. Cost of the "Scranton Limited" rides are $5.00 per person, all ages 6 and older, and will include a special commemorative ticket issued to the first 1,000 train riders that day. Except during the entrance fee-free week, the daily park entrance fee at Steamtown NHS is $7.00 per adult, all ages 16 and older. Children ages 15 and younger, accompanied by an adult, are admitted to the park at no cost. Included in the entrance fee are all walking tours offered by the Steamtown NHS staff, access to all museum buildings, and the park movie, "Steel and Steam." Train ride fares are extra cost. The "Scranton Limited" short train rides will operate April 20-23 at 10:30 a.m. and 11:30 a.m., 1:30 p.m. and 2:30 p.m.; the "Nay Aug Gorge Limited" will operate on Sunday April 24 following the same schedule. Note that train rides will NOT operate on April 16, 18 and 19.
Located in downtown Scranton, Pa., Steamtown NHS is open daily from 9:00 a.m. – 5:00 p.m. From I-81 follow exit 185 (Central Scranton Expressway);then, follow the brown and white signs to the park entrance at Lackawanna and Cliff Avenues (GPS: N 41.41, W 75.67). General park information is available by phoning (570) 340-5200 during regular business hours, or by visiting the park website anytime at www.nps.gov/stea.
About the National Park Service. More than 20,000 National Park Service employees care for America's 410 national parks and work with communities across the nation to help preserve local history and create close-to-home recreational opportunities. Visit us at www.nps.gov, on Facebook www.facebook.com/nationalparkservice, Twitter www.twitter.com/natlparkservice, and YouTube www.youtube.com/nationalparkservice. Find YOUR park at FindYourPark.com!