EarthCaching in Shenandoah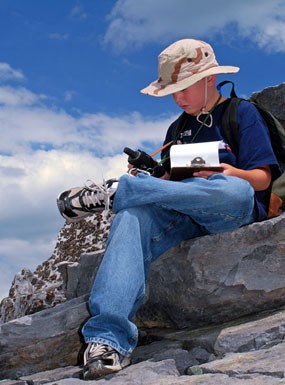 Welcome to Shenandoah's EarthCache program! The EarthCache program is an opportunity to explore selected trails while learning some of the history and geology of the park. It is an educational experience that combines modern technology with an outdoor adventure. This family-friendly activity is appropriate and fun for all ages! EarthCaching can be done by individuals, families, and special groups alike. The self-guided pace and educational component allow visitors to discover and appreciate the beauty and history of their National Park!
What is "EarthCaching"?
Geocaching is a high-tech treasure hunt using Global Positioning System (GPS) devices. The idea is to locate hidden containers, called geocaches, which usually have trinkets placed inside. Alternatively, EarthCaching is a "virtual" geocache that contains no physical hidden container or cache. EarthCaching is a hunt for the Earth's natural and geological features as the "treasure."
Please note that placing traditional physical geocaches is not permitted in Shenandoah National Park.
EarthCaching is a great way to learn about nature. All EarthCaches have an educational component that involves reading the EarthCache notes about a location, then locating the feature using a GPS device. Instead of leaving or removing anything from the site, EarthCachers document their observations and answer questions as a learning experience, and then report their discoveries on the EarthCache website.
Learn how to get started with your own EarthCaching adventures in Shenandoah!
Last updated: February 13, 2018