Bloodroot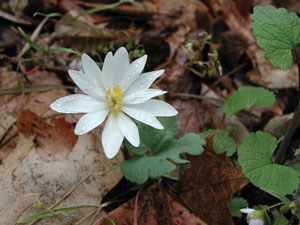 Scientific Name: Sanguinaria canadensis L.
Kingdom: Plantae - Plants
Division: Magnoliophyta - Flowering plants
Class: Magnoliopsida - Dicotyledons
Family:Papaveraceae - Poppy family
Genus: Sanquinaria L. - Bloodroot
Life Cycle: Perennial
Description:
Our native Bloodroot (Sanguinaria canadensis) inspires the first hikes into the woods in early spring. Wrapped in a single leaf, each opening blossom appears snugly tucked in, sheltered from the remnants of winter. Bloodroot flowers are dramatic - one of the largest early flowers at 1.5 to 2 inches long - but their display is brief, usually lasting only a day or two. Each flower has 8 to 12 petals, and if one were to cut the flower in half in any direction, the two halves would always appear identical. The yellow anthers and white petals attract insect pollinators to bloodroot, anticipating tasty nectar, but they are never rewarded for the task of transporting pollen. Bloodroot lacks nectar, but this clever deception assures that the plant is pollinated and produces seeds for germination during the next season. The dark seeds harbor an elaiosome, an oil-rich structure that provides food for ants, which in exchange disperse the bloodroot seeds.
Even after rain or wind strips the plant of its blossom, the leaf is easy to spot through the middle of summer. Each leaf has 5 to 9 uneven lobes that look like webbed-feet. Also, the leaf is distinctly kidney bean shaped overall.
Bloodroot is from the Papaveraceae family, the same family as poppies. It is the only member of its genus.
Habitat:
Bloodroot grows in nearly every county in Virginia and has been documented in all three park districts. One is likely to find it growing in colonies along steep slopes. It is especially conspicuous in the park during flowering in March and April.
Common Names:
Bloodroot acquired its name from its orangey-red, thick underground stem and has gone by many other names, including Red puccoon, Coon root, Snakebite, Sweet slumber, Red root, Corn root, Turmeric, and Tetterwort.
Other facts:
Bloodroot rhizomes contain distinct red latex, inviting many uses for the plant. Some Native American tribes mixed the milky sap with animal fat and used the concoction as face paint. It was also used to dye baskets and clothing. The rhizomes contain alkaloids, responsible for many medicinal properties. At different times, Bloodroot has been used to treat ulcers, ringworm, skin cancer, cramps, vomiting, coughs, and sore throats. It has also been used to induce abortions, repel insects, and as a narcotic. It is notably poisonous if ingested at high doses, and some people find that it causes skin irritation similar to poison ivy. Bloodroot's active chemical constituents are sometimes used in toothpaste and mouthwash to inhibit plaque build-up and prevent gum disease.
Bloodroot is sometimes illegally harvested from the park. In 2003, the park staff established plots to monitor the status of Bloodroot populations, along with other vulnerable species including ginseng, black cohosh, and goldenseal. The effort was intended to quantitatively demonstrate declines in population sizes due to poaching, thus assessing the relative threat to each species. Another goal was to find ways to assist law enforcement personnel in the protection of these plants (e.g., identifying areas most susceptible to illegal harvest).
Bloodroot is a beautiful plant and it can flourish in a shady, woodland garden. Rather than furthering the decline of this species in the wild by illegally removing it from the park, it is better to plant seeds or rhizomes (underground stems) purchased from commercially-available nursery-propagated plants. Bloodroot self-seeds and colonies of these perennials will slowly spread.
References and Links:
Anon. nd. Habitat modeling for protection of high-risk plant species in eastern US National Parks. Project Plan. Leetown Science Center, Aquatic Ecology Branch, Southern Appalachian Field Branch, U.S. Geological Survey.
Bleckinger, Tracy, employee, Shenandoah National Park, National Park Service. Interview 6/29/05.
Grimm, William Carey. The Illustrated Book of Wildflowers and Shrubs. StackpoleBooks, Mechanicsburg, PA, 1993, pp. 111
Gupton, Oscar W. and Fred C. Swope. Wildflowers of the Shenandoah Valley and Blue Ridge Mountains. University Press of Virginia, Charlottesville, VA, 1979, pp. 1
Harvill, Jr., A. M., Ted R. Bradley, Charles E. Stevens, Thomas F. Wieboldt, Donna M. E. Ware, and Douglas W. Ogle. Atlas of the Virginia Flora. Virginia Botanical Associates, Farmville, VA, 1986, pp. 100
Hayden, W. John. 2005 Virginia Wildflower of the Year brochure. Virginia Native Plant Society.
Ulrey, Chris. "Long-term monitoring protocol for Galax urceolata, Sanguinaria Canadensis, Cimicifuga racemosa / americana." Blue Ridge Parkway, 2002
Zomlefer, Wendy B. Flowering Plant Families. The University of North Carolina Press, Chapel Hill, NC, 1994, pp. 45
Further information can be found:
Integrated Taxonomic Information System (ITIS) U.S. Department of Agriculture.
Germplasm Resource Information Network database which is sponsored by the Agricultural Research Service, U.S. Department of Agriculture.
PLANTS National Database, a website supported by the Natural Resource Conservation Service.
Last updated: March 13, 2015