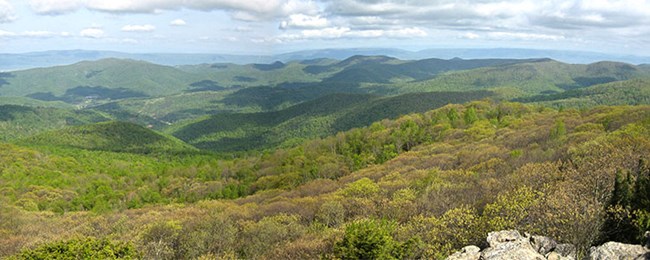 Enjoying the view from scenic vistas is one of the most common visitor activities in Shenandoah National Park. Scenic overlooks along Skyline drive, and viewpoints on many trails, offer wonderful opportunities to enjoy the expansive view, and to study details of the land below. Air quality, vegetative cover and condition, landform, and land use all influence the characteristics of a scenic vista. Hot hazy summer days may afford only indistinct views of nearby mountains and the valley floor, while clear winter days may afford spectacular views of multiple adjacent ridgelines, and many details of valley homesteads.
Skyline Drive was designed and constructed in the 1930's to provide scenic views within the park, and into the Piedmont plateau to the east and the Shenandoah Valley to the west. Seventy-six overlooks, and many drive-by vistas were constructed along the drive so motorists could enjoy the views as they toured the park.
All overlooks in Shenandoah National Park must be maintained with periodic tree and shrub clearing to maintain the historic views. This clearing work is done within the original footprint of each overlook as it was created during the construction of Skyline drive. Regular vegetation management assures that quality views may be enjoyed by Park visitors for many years to come.