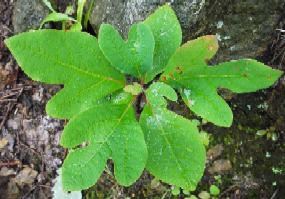 Scientific name: Sassafras albidum
Kingdom: Plantae – Plants
Division: Magnoliophyta – Flowering plants
Class: Magnoliopsida – Dicotyledons
Order: Laurales
Family: Lauraceae – Laurel family
Genus: Sassafras Nees & Eberm. – sassafras
Description:
Sassafras trees are unusual among trees because they have three distinctive leaf shapes. As seen in the photo (right), these shapes are 1) a simple, unlobed leaf, 2) an asymmetrical leaf resembling a mitten, and 3) a three-lobed leaf. Bark of young trees is smooth and green, while older trees have reddish, furrowed bark. Bruised sassafras leaves have a spicy aroma, reminiscent of root beer.