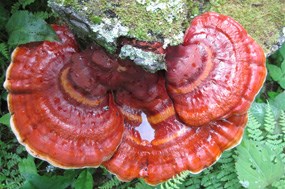 Shenandoah National Park supports over 400 species of fungi. Mushroom development in the park tends to be favored by the moist conditions of Spring and late Fall, but careful observation at any time of year will reveal a wide diversity of fungus on dead wood, leaf litter, and numerous other places within the park.
Mushrooms are saprophytic (decomposing) organisms that thrive by breaking down organic matter. Mushrooms and other fungi are critical components of the forest ecosystem because they facilitate the release of nutrients from dead organisms, allowing them to be recycled into new living material.

What most people consider a mushroom is actually the "fruiting body" of a much larger organism. A large network of fungal filaments (hyphae) that collectively make up a dense mat (the mycelium) supports every mushroom visible in the park. The mycelium grows on and within the substrate on which the mushroom is found, and serves as the food gathering stage of the fungus.

A mutually beneficial association between plantroots and fungi (mycorrhizae) forms in almostall plants. Mycorrhizal associations enhanceabsorption of critical nutrients and minerals for plants.