Natural Resource Inventories
| | |
| --- | --- |
| Animals | Meteorology |
| Plants | Natural History Collection |
| Geology | Maps |
| Soils | Natural Resource Bibliography |
| Base Cartographic Information | |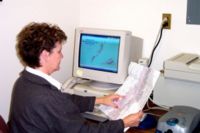 Overview
Natural resource inventorying is the process of acquiring information on park resources, including the presence, distribution, and condition of plants, animals, soils, water, air, geological features, biotic communities, natural processes, and human-induced changes in those resources. Inventories are designed to contribute to a statement of the condition of park resources, which is best described in relation to a standard condition such as natural or unimpaired. Inventories involve both the compilation of existing information and the acquisition of new information.
Park inventories include general and specific descriptive data and historical records. Information collected includes things like legal descriptions, climate information, land classifications, topographic maps, watershed delineations, surficial and bedrock geology maps, hydrologic information, water quality data, air quality data, species lists, vegetation maps, documentation of fires, insect, and disease infestations, etc.
In a world in which natural places have become few and precious, knowledge of the composition and function of relatively unaltered natural systems is invaluable. This program provides a fundamental knowledge of those systems and the technical basis for "ecosystem management".
Natural resource inventories have three primary uses:
Documentation of the occurrence, location, and condition of park resources
Identification of rare, threatened, or endangered species and ecosystems for purposes of directing management
Development of a foundation for implementation of status and trend or monitoring programs