Grasses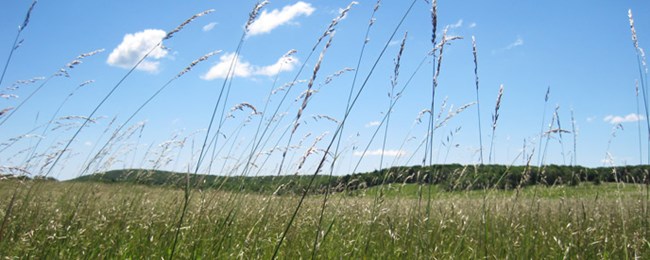 Grass and grass-like species (sedges and rushes) account for 13% of the vascular plants within Shenandoah National Park. Despite this relative abundance, these species are often overlooked because of their small wind-pollinated flowers and nondescript linear leaves.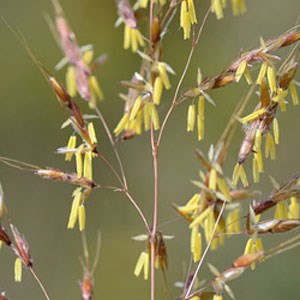 Many grass flowers mature in the late spring to early summer. The wind-pollinated nature of these flowers necessitates producing large quantities of pollen, making them particularly common culprits for seasonal allergies.
In Shenandoah National Park grasses can be easily viewed at Big Meadows where red top (Agrostis perennans) and tall oat grass (Arrhenatherum elatius) are particularly common. The troublesome invasive species Japanese stilt grass (Microstegium vimineum) can be seen throughout the Elkwallow picnic area where it is has overrun virtually all other forest understory herbs. Grasses possess a subtle beauty, and provide a worthy botanical challenge to those interested in determining individual species. Take a moment next time you pass some grass to bend down and take a closer look.

View the complete species list of grasses, sedges, and rushes.
NPSpecies Lists
NPSpecies is a consolidated database where you can find the latest information on any species from any National Park Service unit. This resource lets you search for species information on specific parks and allows you to create your own itemized species lists.

How Does it Work?
Use the dropdown menus below to select the species category that you'd like to view. You can choose to get a checklist or to get the full list, which includes more information about each species. Once you make your selections, click on the view PDF button. This will generate your customized report. From here, you can click on the large Print button at the top of the document to print the report, or save the report by clicking on the blue-and-white floppy disk symbol to save the report.
Select a Park:
Select a Species Category (optional):
Search results will be displayed here.

Visit NPSpecies for more comprehensive information and advanced search capability. Have a suggestion or comment on this list? Let us know.


Last updated: March 5, 2019