Geology
Current geological activity in Shenandoah National Park is a result of natural and man-made forces acting on the surrounding mountains and valleys. Freezing and thawing can result in rockfalls and spalling from cliff faces. Severe thunderstorms and rain events can cause flooding and associated erosion. In extreme cases, large amounts of rain can cause landslides. Some forces act together to produce geological change. A wind storm may bring down trees that were killed in a wildland fire on land where, in turn, severe rain could cause significant erosion. Most often these events are relatively small, but over millions of years, these small events produce sizable changes in the land. The result is a landscape undergoing constant change.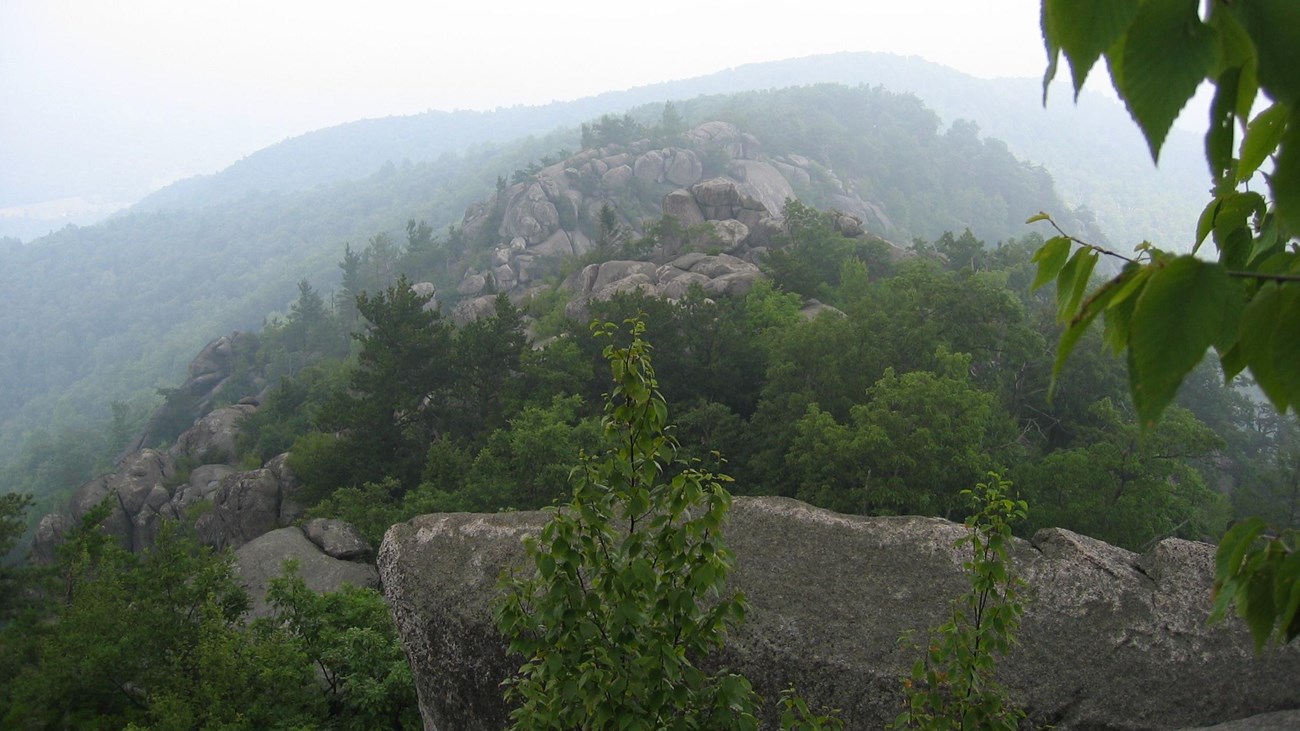 Geologic Formations
From ancient tectonic collisions to the rolling Appalachians of today, the geological story of Shenandoah is old and unfinished.
Learn more about the rocks that make Shenandoah

Basement rocks, left over from a mountain range even older than the Appalachians, form the foundation upon which the Shenandoah Blue Ridge rises. Over one billion years old, they can still form dramatic topography, creating the rounded, boulder-strewn summits of Old Rag Mountain, Hogback Mountain, and Marys Rock.

Greenstone lava flows, 570 million years old, now form the sheer, jagged cliffs of Stony Man, Hawksbill, and many other peaks within the park. These flows, stacked one atop the other, create a staircase-like topography of sheer cliffs and flat benches that produce many of the most distinctive landscapes in Shenandoah. Most of the park's major waterfalls are located where streams cut through these layers of lava and plunge into steep-walled canyons.

Chilhowee metasedimentary rocks, from the shores of an ocean predating the Atlantic, now create the steep slopes and rugged topography of the park's unique South District. Fused together and altered in the heat and pressure of mountain-building, the white quartzites form the great cliffs and boulder fields of Rocky Mountain, Calvary Rocks, and Blackrock South.
Last updated: May 30, 2023