Butterfly milkweed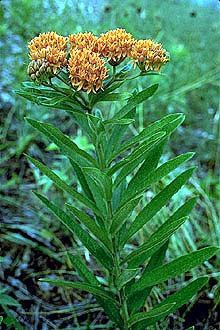 Scientific Name: Asclepias tuberosa
Kingdom: Plantae – plants
Division: Magnoliophyta – flowering plants
Class: Magnoliopsida – dicotyledons
Family: Asclepiadaceae – milkweed family
Genus: Asclepias – milkweed
Life Cycle: Perennial
Description:
Butterfly milkweed (Asclepias tuberosa)grows 1-3 feet tall and has flat-topped clusters of orange flowers. Unlike many other flowers that have two whorls, milkweeds have three whorled flowers. The inner whorl is known as the corolla, above that is the corona, and the outermost whorl of sepals is the calyx. The leaves of the butterfly milkweed are stiff and lance-shaped. They differ from all other milkweeds in that they are alternate and do not produce milky white sap. Butterfly milkweedis a perennial herb and flowers throughout June and August. The flowers are followed by green spindle-shaped pods that open and release silky tufted seeds that are wind dispersed.
Habitat:
Butterfly milkweed is found in all states except Oregon, Washington, Nevada, Idaho, Montana, North Dakota, and Colorado. It is endangered or threatened in Maine, New Hampshire, New York, and Vermont. It grows in well-drained sandy soils in prairies, open woods, canyons, and hillsides and prefers full sun. Milkweeds have a large taproot that allows them to tolerate drought conditions. At Shenandoah National Park butterfly milkweed can commonly be found in Big Meadows among other milkweed species. The bright orange flowers of the Butterfly milkweed however, stand out among all others. This milkweed can also be found growing on the side of Skyline Drive.
Common Names:
Other common names include butterfly milkweed, butterfly weed, chigger-weed, pleurisy root, and Indian paintbrush.
Other Information:
Butterfly milkweed is poisonous if ingested in large quantities. Historically this plant was used to treat lung inflammations by increasing fluidity of mucus in the lungs and bronchial tubes, hence the common name pleurisy root. Butterflies and hummingbirds are attracted to the bright orange flowers of butterfly milkweed and feed on the nectar. Adult female monarch butterflies lay their eggs on the underside of milkweed leaves. When the larvae hatch, they feed exclusively on milkweed leaves. The larvae develop into caterpillars with black, white and yellow stripes. These caterpillars then go into the pupa stage and shortly after emerge as monarch butterflies. Both the caterpillars and butterflies are poisonous to predators because they have taken in the toxins of the milkweed plant. These butterflies then migrate south to Florida, Texas, and Mexico and return again the following spring.
References and Links:
Animal Facts: The Monarch Butterfly
Floridata Plant Profile : Butterfly Weed
2bn the Wild - Wildflowers of the Southeastern United States
Further information can be found:
Integrated Taxonomic Information System (ITIS) U.S. Department of Agriculture.
Germplasm Resource Information Network database which is sponsored by the Agricultural Research Service, U.S. Department of Agriculture.
PLANTS National Database, a website supported by the Natural Resource Conservation Service.
Last updated: February 26, 2015