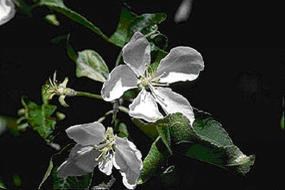 Scientific name: Malus pumila
Kingdom: Plantae – Plants
Division: Magnoliophyta – Flowering plants
Class: Magnoliopsida – Dicotyledons
Order: Rosales
Family: Rosaceae – Rose family
Genus: Malus P. Mill – apple
Life Cycle: Perennial
Nativity: Introduced
Description: The apple is a small tree that can reach 25 feet in height with a crown spread of 25 feet (The Natioanl Arbor Day Foundation Website). The leaves are simple, oval in shape, have small serrations along the margin, and are arranged alternately along the branches. A typical leaf is 2 – 5 inches long, 1.5 – 2.5 inches wide, and has an acuminate tip (Petrides 1972). The twigs, buds, and undersides of the leaves usually have white pubescence. The bark is brown and scaly and mature trees in the park can have a trunk diameter of up to 24 inches. Showy, white, five petaled blossoms, often tinged with pink, are found on the tree in late spring. The flowers are pollinated by bees and other insects. The pomaceous fruits mature through the summer and become ripe and ready to eat in the fall. Ripe apples range in color from green to yellow to red or a mixture of these colors.
Common Names: Names for this tree species include the apple, common apple, and paradise apple. The accepted scientific name is Malus pumila, but is also referred to as Malus domestica, Malus sylvestris, Malus communis, and Pyrus malus (ITIS website). This extensive crossing of genetic lines has made it very difficult to differentiate the apple into taxonomically distinct species. Thus, there is much debate in the botanical world over species separation and inclusion. Apple trees, one of the first fruit trees in human history to be domesticated, have been specifically cultivated to produce edible fruits. Fruits with the best taste, color, size, or storage capacity have been favored and selected for over time. Different lines of Malus pumila have been purposely crossed to produce new, more desirable varieties of apple. Apple trees in the park may have very different genetic histories and thus produce fruits with distinctive color, size, or taste.
Habitat: Not a native plant species to North America, the ancestral apple tree can be traced back to the mountainous region of central Asia (Wikipedia website). From here, cultivated apple trees slowly made their way west through Asia to Europe and eventually on to America with the European settlers.
Today, apple trees can be found growing throughout the park at elevations up to 3700'. They require well drained nutrient rich soil and moderate sunlight. When in bloom in the spring or heavy with fruit in the fall, apple trees stand out from other trees in the forest. Many locations along Skyline Drive including Skyland, Loft Mtn. Campground, Limberlost, Spitler Knoll Overlook, and many other overlooks contain apple trees.