Unmanned Aircraft (drone) Use is Prohibited in Shenandoah National Park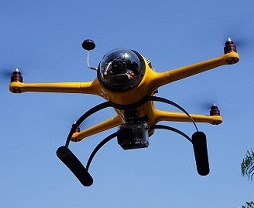 In June 2014, National Park Service Director Jonathan B. Jarvis issued a policy memorandum to ensure that the use of unmanned aircraft was addressed by the NPS before a significant level of such use occurs within the National Park System. The policy memorandum directed each superintendent to use the authority under code of federal regulation 36 CFR 1.5 to prohibit the launching, landing, or operation of unmanned aircraft (drones). This prohibition applies to the launching, landing, and operation of unmanned aircraft on lands and waters administered by the NPS.
The National Park Service embraces many activities in national parks because they enhance visitor experiences with the iconic natural, historic and cultural landscapes in our care. There has been dramatic growth throughout the United States in the numbers and use of unmanned aircraft during recent years. As unmanned aircraft (commonly called drones) have become more affordable and easy to operate, they have begun to appear in national parks.
However, the NPS has serious concerns about the negative impact that flying unmanned aircraft is having in parks. The primary goal is to ensure that we can protect park resources and ensure visitor safety while providing all visitors with a rich experience.
There are several risks and potential impacts surrounding the use of unmanned aircraft within the boundaries of Shenandoah National Park. First, Shenandoah National Park's front county areas mainly consist of a narrow, winding road corridor (Skyline Drive) which is used primarily for motor vehicle travel. Unmanned aircraft cause distractions to drivers and can potentially strike a motor vehicle if used along the roadway or roadway corridor. Second, unmanned aircraft disturb wildlife, visitors and negatively impact the view shed of the Parks designed landscape. Allowing this activity is contradictory to a landscape uninterrupted by modern development. The use of unmanned aircraft in and around the federally-designated Wilderness area has a distinct negative impact on the wilderness character of the entire area –preserving character is the primary reason for designation. The closure of Shenandoah National Park to unmanned aircraft eliminates the potential for adverse effect in front country, backcountry and wilderness areas alike. Furthermore it reduces the potential disruption of the visitor experience in all areas throughout the Park.
Shenandoah National Park does not meet any of the specific circumstances outlined in the Director's policy memorandum that would allow the non-permitted private or commercial use of unmanned aircraft. Only in very rare circumstances will Special Use Permits be issued. Administrative use of unmanned aircraft may be approved by the Associate Director of Visitor and Resource Protection for such purpose as scientific study, search and rescue operations, fire operations and law enforcement.
Last updated: May 11, 2018