Skyline Drive History
"It is a wonder way over which the tourist will ride comfortably in his car while he is stirred by a view as exhilarating as the aviator may see from the plane." - U.S. Senator Harry F. Byrd (Virginia)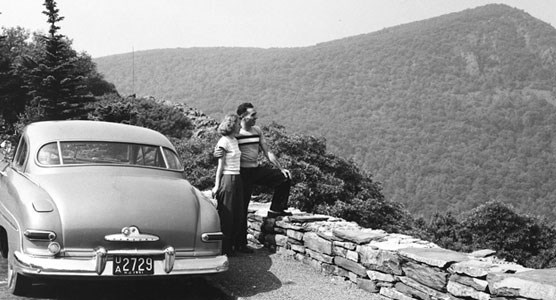 In 1924 the search for a national park site in the east brought the Southern Appalachian National Park Committee to the Blue Ridge Mountains of Virginia. Their job was to find a site accessible to the 40 million Americans living in eastern cities including Washington, DC.

The committee recommended the site that is today visited by millions of Americans each year, Shenandoah National Park. As part of that recommendation the committee, recognizing the proliferation of the automobile, suggested that the "greatest single feature" of the proposed park should be a "sky-line drive along the mountain top, following a continuous ridge and looking down westerly on the Shenandoah Valley…and also commanding a view of the Piedmont Plain stretching easterly to the Washington Monument."

Construction of such a roadway was a pioneering work of landscape architecture and engineering, as well as a famous work-relief project. Work was begun before the park was even established using emergency employment relief funds, and continued by the boys of the Civilian Conservation Corps who spent thousands of hours building beautiful rock walls and landscaping sweeping overlooks to make Skyline Drive the experience it has been for over 75 years.


Last updated: December 20, 2022