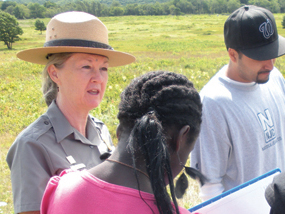 The
Teacher-to-Ranger-to-Teacher (TRT)
program is an extended professional development opportunity for K-12 classroom teachers to learn about the resources and educational materials available through the National Park Service. Teachers selected as Teacher-Rangers spend the summer working with Park staff on education projects, learning about National Parks, and developing lesson plans for use in their classrooms. The emphasis of the TRT program is to connect National Park areas with teachers and their students who may have little or no experience with National Park Service. The TRT program is administered through a cooperative agreement with the University of Colorado, Denver (CU Denver). Professional development and graduate credit hours are available through the university.
Shenandoah National Park TRT Program

Teachers selected as a TRT spend 8-10 weeks working side-by-side with park rangers on specific education-based project that varies from year to year based on the park's needs. In addition, the TRT is introduced to other park duties such as presenting interpretive programs for the general public, staffing the visitor center information desk, or helping with resource management projects.

TRTs must commit to approximately 230 hours and are automatically enrolled in an on-line graduate course through CU Denver. The tuition is paid by the National Park Service. TRTs are required to submit at least one lesson plan as part of the graduate course. The TRT receives a stipend for successful completion of TRT program commitments.
Once they return to their schools, teacher-rangers bring their national park knowledge and experiences into the school and classrooms throughout the school year to engage students, faculty, and staff in lessons and activities that relate to Shenandoah National Park and other national park sites.


Benefits
To Teacher-Rangers:
Obtain new knowledge and skills by working with park staff

Enhance their curriculum in multiple content areas

Gain access to a wide array of teaching resources and tools

Create personal connection with national parks

Stipend for successful completion of TRT program commitments
To Students:

Provide an opportunity to connect to their nation's heritage in new and creative ways

Learn about the possibilities for volunteering and paid employment with the National Park Service

Receive new tools and resources for exploring natural and cultural history through national parks
To Shenandoah National Park:
Opportunity to reach new or under-served audiences through innovative, engaging programs

Build a network of enthusiastic, knowledgeable educators who are able to teach their students and colleagues about the significance of national parks and heritage conservation

Enrich the park visitor experience through the programming and visitor service offered by the teacher-ranger

Application Process

Shenandoah National Park recruits for TRTs with specific skills, grade levels, and subject matter expertise based on a specific education-based project each year. TRT project information is posted here and disseminated through the Virginia Department of Education. Teachers apply directly to the park by downloading and completing the application form.


Application
Shenandoah National Park is not accepting applications for 2015.

More Information
Contact Tim Taglauer, via e-mail or by phone, 540-999-3500, x3488
This program was funded by a generous donation from the Shenandoah National Park Trust.