Scientific Research and Collection Permits
Prior approval in the form of a permit is required to conduct scientific research or collecting in Sequoia and Kings Canyon National Parks (SEKI). These units within the National Park Service (NPS) have a long history of supporting scientific research, and that research has been important both to park management and to the general body of scientific knowledge.

A research prospectus is available that highlights high priority research needs within the parks. Research permits for César E. Chávez National Monument are also submitted to our Research Permit Coordinator.

Please follow the steps outlined below. A minimum period for review is one month for a simple application, but as much as three or more months for a complex application.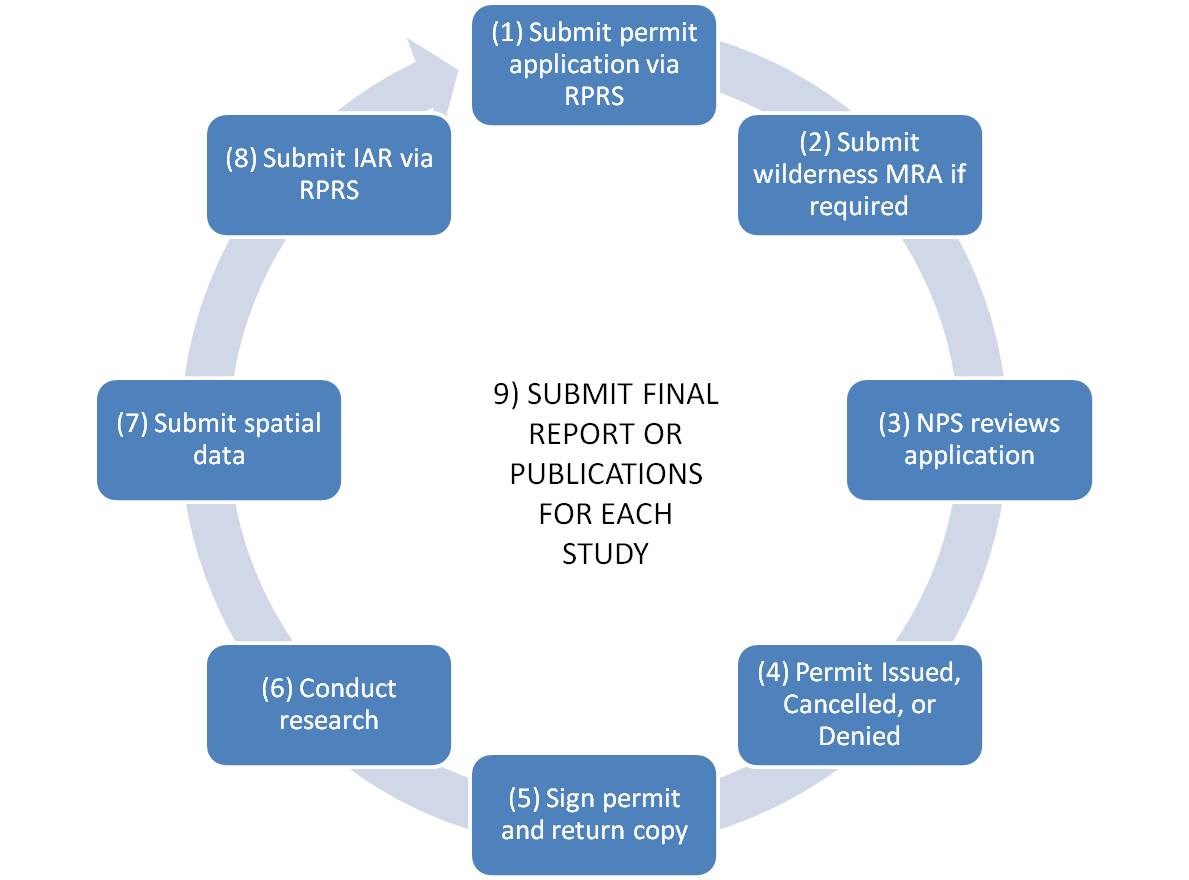 Applying for a Permit
1. Submit permit application on-line via the Research Permit & Reporting System.
The NPS Research Permit and Reporting System website (RPRS) is a national website that tracks applications and permits. The RPRS website will walk you through the new or renewal application process. Students: Please note the degree that you are earning within the purpose of your study and include your advisor as an additional investigator.

2. Submit supplementary review materials if required.

3. NPS reviews application.
First, the application is reviewed by the Research Permit Coordinator and SEKI subject matter experts. If wilderness is involved, the application (including the MRA) is reviewed by the Wilderness Coordinator. A research study with potentially unacceptable or uncertain impacts and all those requiring a full MRA analysis will be reviewed by the parks' Environmental Protection Specialist who recommends if the application requires a further level of review. If so, additional analysis and review are carried out. With this input, the Research Permit Coordinator makes a recommendation to the Chief of Resource Management and Science who then approves or denies the research permit.

4. Permit is issued, cancelled or denied.
The Research Permit Coordinator communicates the permit decision to the researcher via email. If the application is approved, a permit, parking placard, and other supplementary materials will be attached.

5. Sign permit and return copy.
Carefully review the permit conditions. Your signature and date on the permit signifies your agreement to comply fully with these terms. Please sign it and return as a PDF to SEKI_Research_Permits@nps.gov.

6. Conduct research.
Doing the research is the fun part, but please take extra safety precautions alongside following the conditions included with your permit. A wilderness permit is required for all overnight stays in wilderness.

7. Submit spatial data.
The NPS needs to know where research is conducted within parks. Adequate reporting is critical to maintain support for research and helps with the security of installed equipment and long-term study sites. It is a tremendous help if researchers follow these guidelines. Researchers must submit, to the Research Permit Coordinator, spatial data for field locations before submitting a new or renewal application or by March 31 of the following year, whichever is earlier.

8. Submit investigator annual report (IAR) via RPRS.
Researchers must submit their IAR before submitting a new or renewal application or by March 31, whichever is earlier. The IAR is submitted directly via the RPRS website.

9. Submit final report/publications for each study.
Reporting your findings is a condition of an NPS research permit as well as your ethical duty as a scientist. Final reports (manuscripts, journal articles, research briefs) can be submitted online directly via RPRS, including automatic posting to the NPS Integrated Record Management Applications (IRMA) database.

Research Permit Coordinator Contact: SEKI_Research_Permits@nps.gov
Accommodations for Researchers
The parks have very limited accommodations for researchers, and reservations need to be made well in advance of fieldwork. The Ash Mountain Dormitory has eight beds available by reservation at low-cost (currently $14.08 per person/night). The rustic dorm has a kitchen with limited supplies and a bathroom. It is located within walking distance from the Foothills Visitor Center/Ash Mountain Headquarters. Make a reservation via the Research Permit Coordinator.

The Sierra Nevada Research Institute (SNRI) Sequoia Field Station at Wolverton is operated by UC Merced in partnership with SEKI. For more information or to make reservations contact SNRI.
Last updated: May 16, 2022