Pets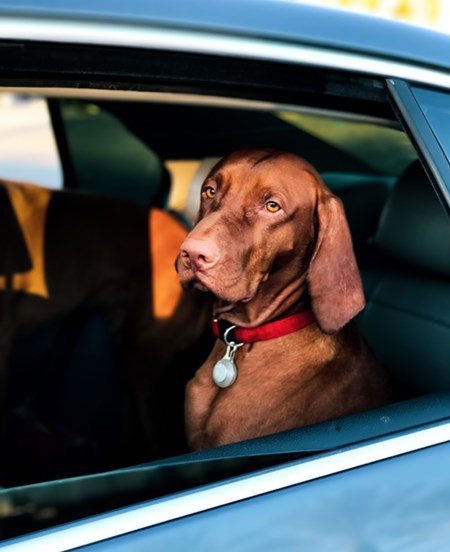 Are you traveling with a pet or thinking of bringing your pet to the parks with you? Please consider the following information before you visit.
Where Are Pets Allowed In The Parks
There are just a few locations where pets are permitted in the parks, outside of your vehicle. They are permitted outside of vehicles in the following locations:
parking lots
paved roads
campgrounds
picnic areas
Should I Bring My Pet?
Ultimately, bringing your pet to the park is your choice. But in many cases, there are more risks than rewards to both pets and wildlife. Wildlife have been known to injure dogs. Deer, coyotes, bears, and mountain lions can be protective of young or defensive of territories and may attack pets. Off-leash pets have also injured and killed park wildlife. Disease transmission is also a concern, as some diseases can be passed between dogs and coyotes.

Another consideration is whether you hope to see wildlife. Typically, people who camp or walk around without their pets are more likely to see park wildlife such as deer, bears, squirrels, marmots, lizards, and bobcats.

If you do decide to bring your pet, please be sure to follow regulations and pick up all pet waste. Pet waste is the primary way parasites and disease can spread between pets and wildlife. For your pet's safety, do not allow your dog to eat anything they might find in the park. Be sure to keep your pet on a leash that is six feet or shorter at all times.
Dogs and Bears
Bears live all over the parks and are common on all trails, paved or unpaved, as well as in campgrounds, parking lots, and other developed areas. All park bears are wild. Interactions with dogs may lead to an unpredictable outcome, including an injury to the dog, bear, or the owner.
The Regulations
Pets are prohibited on all trails. This includes paved trails, such as the General Sherman Tree Trail, Big Trees Trail, Grant TreeTrail, and others.
Pet backpacks and strollers are permitted, but not on any trails. They are only permitted in areas where pets are allowed on leash, such as parking lots, paved roads, campgrounds, and picnic areas. Whether on foot or in a carrier, pets are limited to these four areas.
You, as the pet owner, must pick up pet waste and properly dispose of it in trash receptacles.
Pets must be restrained on a leash not more than six feet (1.8 m) long. Leashed pets may not be left unattended.
All pet food must be securely stored in a food storage box in picnic areas and campgrounds when not in use. If no food storage container is available as you travel through the park, please place the food out of site (preferably in a vehicle trunk), as bears have been known to break into vehicles to obtain human/pet foods.
For your pet's safety, please don't leave pets in hot cars. Pets cannot be left tied and unattended at any time.
What About Service Dogs?
Service dogs are permitted anywhere their companion goes. For information on what qualifies as a service dog and for safety information, please visit our Service Animals page.
Nearby Areas Where Pets Are Permitted
In the national forest lands that surround these parks, leashed pets are allowed on trails. Leashes must be less than 6 feet (1.8 meters) long. See the map below for locations of national forest areas adjoining Sequoia and Kings Canyon National Parks. Sequoia National Forest and Giant Sequoia National Monument is administered by the U.S. Forest Service.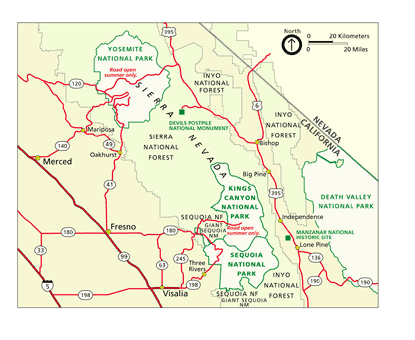 Last updated: July 21, 2023