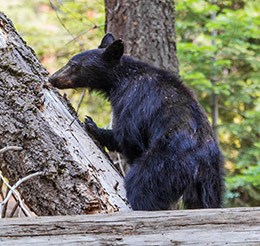 Bear habitat means food storage is required!
Bears can grab unattended food or easily break into cars that have food in them. They become bold and sometimes aggressive in attempts to get more. Too often these bears must be killed.
This is why you may be fined if you do not store food properly. Follow the rules below to reduce (but not eliminate) the risk of a bear break-in.

What must be stored?
All food and anything with a scent (even if you don't consider it food) must be stored. This includes garbage, recyclables, soap, shampoo, toothpaste, sunscreen, first-aid kits, baby wipes, lotion, hairspray, scented tissue, air freshener, pet food, insect repellent, tobacco products, baby car-seats, and window cleaner. Bears recognize ice chests, cans, bottles, and grocery bags, so store them also.