Wilderness Stock Use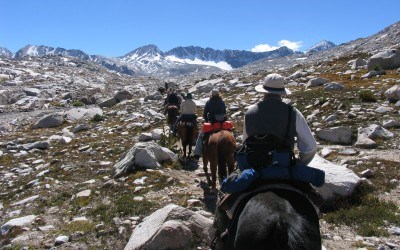 'Stock use' refers to travel with horses, mules, burros, and llamas. Since the U.S. Army Calvary protected the Park in the early 1890s, using stock to build roads, trails, and bridges, stock use has been an important element of Park operations and management. Not to mention the many visitors that benefit from stock-supported trips each year.
However, stock use has impacts on wilderness environments, and as such, must be carefully planned and conducted. If you would like to travel with stock in wilderness, be sure you are familiar with the specific regulations that apply to stock-supported trips.
The Wilderness Office is available to assist you. For information regarding commercial stock use, please contact the Commercial Services Office at 559-565-4235 or email us at the information below.

If you don't have pack stock but are interested in day rides or overnight trips, there are stables that operate in Grant Grove and Cedar Grove.
Planning Your Stock-Supported Wilderness Trip
---
Velvet Grass in Kern River Canyon
Velvet grass, an invasive species, was discovered along the floor of the Kern River Canyon in 2006. To prevent its spread, temporary grazing restrictions are in place for Kern Ranger Station Pastures, Lower Funston Meadow, and Upper Funston Meadow.
---
Contact the Wilderness Office
Phone: (559) 565-3766
Fax: (559) 565-4239
E-mail: SEKI Wilderness Office


Contact the Comercial Services Office

Phone: (559) 565-4235
Fax: (559) 565-3730 (Attn: Commercial Services)
E-mail: Commercial Services
Last updated: October 11, 2017