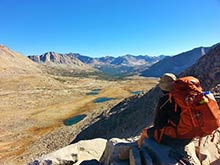 Here you will find the most recent trail conditions available to us. This information is provided to you by wilderness rangers who are currently in the field and is updated according to their patrols. Conditions are continuously changing so please be prepared for rapidly changing trail and weather conditions. Thunderstorms are common during the summer months and can turn a clear day into a hazardous situation in a matter of hours. Consider all possibilities before you head out on your trip and check out the Trail Safety page for more information on the potential hazards of wilderness travel.
You can help us by sending an email to report trail conditions. For more information please call the Wilderness Office at (559) 565-3766.
For snowpack data, visit the California Department of Water Resources snow survey website.
Drift Fences
You may encounter "Drift Fences" in the wilderness. These fences are utilized to keep stock (horses, mules, and llamas) from roaming freely or impacting ecologically sensitive areas. Each fence has either a sliding pole or swinging gate across the trail for visitors to pass through. Please close all gates behind you to protect wilderness resources.