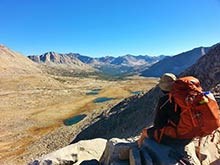 Here you will find the most recent trail conditions available to us. There are very few of these rangers in the field during the shoulder seasons and none in the winter months. Do not rely on regular updates during this time of year. Also, conditions are continuously changing so please be prepared for inclement weather. Winter storms start early in the High Sierra and can surprise unaware wilderness travelers, so please be prepared. Consider all possibilities before you head out on your trip and check out the Trail Safety page for more information on the potential hazards of wilderness travel.
You can help us by sending an email to report trail conditions. For more information please call the Wilderness Office at (559) 565-3766.
For snowpack data, visit the California Department of Water Resources snow survey website.