Maps and Information for the Backbone Trail
Transcript
The vision captured by that 1908 Associated Press story was realized some 70 years later. The Santa Monica Mountains National Recreation Area was established in 1978, and is available for all to celebrate. Welcome to this video series on hiking the signature trail in your National Recreation Area. I'm Ralph, your host. This orientation video will highlight historic information as well as recommendations for hike preparedness. Subsequent videos will feature individual trail segments.
By 1930 California had compiled a wish list of areas worthy as future state parks. The Santa Monica Mountains were on that list. By the 1960s four distinct state parks had been created in the Santa Monicas and those parks would become the core of what is now the National Recreation Area. Early in the 1970s three dedicated women partnered with State Parks and together petitioned the federal government for an unthinkable national park abutting one of the world's largest and busiest cities. In 1978 congress passed the enabling legislation for that Recreation Area and it referenced the Backbone Trail. It took another 40 years to finish the Backbone. The selfless effort to conserve and protect our nation's special places for all people and all generations had begun 150 years before the Backbone Trail was completed, and it had just celebrated another magnificent milestone. On the 25th anniversary of the Recreation, Area the National Park Service undertook hosting the public on a one-time hike on the then unfinished backbone trail. But due to overwhelming enthusiasm the hikes never stopped and that was in 2003. Since then, some 500 hikers have taken part in the program. Here are a few things we learned on those hikes. We split the trail into eight segments running west to east for our group interpretive hikes. You may want to combine certain segments. We hiked the second and fourth Saturdays. So a January start offered best overall conditions ending in April or May before it got too warm. We postponed for rain, excessive heat or wind and red flag warnings. We use multiple cars to allow through hikes rather than out and back hikes. You should be aware that ride share services can be difficult. Lastly, don't rush. Enjoy, interpret and celebrate the resources. Who knows when you'll be back. Now, how should you prepare? Well let's hear from some fellow Backbone Trail hikers. You will also hear from them during the trail segment videos offering brief interpretations on the park's resources Hi, my name is Greg. I'm excited to share about the geology on some later videos. Right now, I'm going to speak about fitness preparation for your hike. This is a moderately strenuous hike. Training hikes are a mind and body experience that sidewalks and treadmills cannot provide. It's going to be helpful for you to learn your personal limitations, such as hiking with a full pack, exposure to the elements, elevation gains and losses, footing and balance, hydration needs and your overall awareness. You'll also need to practice reality such as breaking in new gear, like hiking with poles, reading maps. And finally, and maybe most importantly, is to start the day right. So make sure you have a really good breakfast and start hydrating the day before you start hiking.
Hi, my name is Iliana Espinosa and I am a park ranger here at Santa Monica Mountains National Recreation Area. I will be talking about the fauna of the Santa Monica Mountains in my future talks, but right now I will be focusing on hiker recommendations for the backbone trail. So you never know what the weather is going to be like, because it might be hot in the day and it will change later. Or, it might start to rain or sprinkle, so it's always good to bring extra layers of clothing. Another thing that I would recommend to bring with you are ziploc bags. Even if it's just a small sprinkle, or a heavy rain, it's good to protect your valuables. Most common medicals that occur are blisters. So it's good to prepare yourself and even take some type of blister prevention or even a remedy in case you develop blisters while you're hiking the Backbone Trail. Another thing that I recommend is to clip your toenails, so you don't hurt yourself while you're hiking. Because if you have a longer toenail it might be rubbing against your hiking shoe or athletic shoe. Another common medical that we see is heat related illnesses. So it's really important that you know the symptoms and the treatments for it. And the last, very important thing that I would like to talk about is never to go hiking alone. You always want to take a partner with you, so, you know in case something happens, there's someone there that knows what to do and to call for help.
Hi everyone, my name is Felipe Lepe and I'm an interpretive park ranger here in the Santa Monica Mountains National Recreation Area, I'll be with you later when we discuss the cultural history of the Santa Monica Mountains. But there are a few items that every hiker out there should really have, and when it comes to packing my backpack, I really look for three things: safety, comfort and my own interests. So when it comes to safety you really want to make sure you have a first aid kit, even a small one can go a long way. And make sure it's easily accessible, too. I really like bringing with me some sun protection. So whether it's a hat or a bandana, that's essential when you're out here in the Santa Monica Mountains. There's always a good chance, too, that maybe your phone could act funny with the gps, so I always like to bring a map with me. Extra water, lunch and snacks because you never know when you're going to get hungry while you're out on the trail. I'll always make a list before I actually go hiking, and I encourage you all to do the same. If you have that checklist, go through it. Make sure you have everything for safety, comfort and for your interest and have a great time on trail. Hi, my name is Erica. Before I share my love of the plant diversity you'll encounter on the trail, I'd like to share with you a few tips to maximize your trail experience. First, explore some of your interests. Whether you love rocks, insects, reptiles or mammals or are interested in the cultural history of the mountains; you might want to read up on these topics. Then get ready for your hike. You should have an emergency contact, someone who knows your route and your timeline. And speaking of timeline, take your time. This may be the only time you walk the entire trail. Think about what you want to get out of it before your hike. Meet with your group to make sure everyone has what they need. You don't want to be out on the trail and find out somebody forgot something that's essential. And after the hike meet again. Talk about what went well and what you might want to do for the next hike. On the hike, if you experience a medical issue no matter how small, speak up and nip it in the bud. You don't want a small matter to become a hike-ending experience. I'm Tyree Spraggins, one of the L.E. rangers here, and I'm a first responder. If there's an injury out here on the trail, medical response may be delayed. If that is true make sure you have the proper equipment to be able to take care of yourself until EMS arrives. The most common cause we get out here on the trails are lost hikers, individuals that's dehydrated and people who just can't finish the course on the trail. Some reasons for calls are because people aren't physically mentally prepared. Listen to the previous speakers. Know what you're getting into and know your limits.
So, there you have it. I would also suggest that this video series is successful if you engage more with the natural and cultural resources on your hike. And that your hike is successful if you learn more about yourself. We hope you'll share your backbone impressions with us. Visit the Santa Monica Mountains National Park Service website for Backbone Trail reference materials, or contact the visitor center. The National Park Service thanks the efforts of our dedicated volunteers and is appreciative of the support of the Chumash and Tongva peoples.
Visit our keyboard shortcuts docs for details
Duration:

9 minutes, 22 seconds
This video highlights historic information and pre-hike preparations. Subsequent videos will feature individual trail segments. In this video, we will share with you what the years have taught us: that it's best to hike this trail in eight segments going from west to east. For instance, we recommend that you don't hike in rain, excessive heat or during wind, and red flag warnings.
The seashore delivers endless new beginnings and segment one begins with the sea breeze seeming to lift you high above this shoreline. From the Ray Miller Trailhead it is a moderate climb through a desert-like plant community called Coastal Sage Scrub. Ironically, this harsh environment borders this seemingly endless body of water whose horizon is only interrupted by the Channel Islands.

Duration:

8 minutes, 11 seconds
The Mishe Mokwa Trailhead will lead you to a well-known feature of segment two, Sandstone Peak. At 3,111 feet it is the highest point in the Santa Monica Mountains. There's just one problem, it isn't sandstone at all - it is an igneous rock called breccia and as you'll see, a variety of stones were captured and embedded by the magma. One-of-a-kind vistas punctuated by enormous rock outcrops dot this plateau area, and they will lure you to the only Wilderness Area in the Recreation Area. 

Duration:

7 minutes, 12 seconds
Walking east from Mishe Mokwa is a gentle day's walk near to or on the ridgetops. To the south are upper watersheds of canyons that stretch out toward the seashore, and to the north are valleys and mountain ranges of the interior.

Duration:

5 minutes, 50 seconds
Segment four delivers hikers into Trancas Canyon, one of two impressive watersheds on this leg. Trancas introduces the first perennial aquatic habitat on the Backbone. How much water have you seen on the Backbone so far? Water always brings pleasure to all our senses; however, these habitats are rare, very fragile, and truly 'life giving' so leave them undisturbed.

Duration:

5 minutes, 51 seconds
Segment five travels from Latigo Canyon Trailhead through several significant habitats in rather spectacular fashion. The first half includes another intimate dip into and out of Newton Canyon as prologue to the wonderous perched watershed of Solstice Canyon.

Duration:

5 minutes, 16 seconds
Segment six rewards you from the outset with the vast panorama of the Lois Ewen Overlook, which only improves once you're atop Saddle Peak. Like rainwater, you'll meander toward Malibu Canyon's floor amidst sandstone outcrops that oversee the chaparral plant community blanketing the slopes.

Duration:

5 minutes, 34 seconds
Segment seven introduces hikers to another famed and mystical canyon, Topanga. The approach is via Hondo Canyon and it will leave you wanting more of its rich biodiversity. Appreciate that this was the only source for the critical daily needs of the indigenous peoples.

Duration:

5 minutes, 51 seconds
Trippet Ranch is the start of segment eight and Will Rogers State Historic Park is your grand finale. It begins with wonderful plant diversity on the Musch Ranch Trail. If not for all of these large ranch holdings from before World War II, the Recreation Area might well have never been realized. Post-war development was rampant, but eventually the residents of Southern California were able to protect areas for future generations.

Duration:

7 minutes, 58 seconds
Share your questions, trail experiences, tips or thoughts about this video series with us by emailing samo_interpretation@nps.gov


The National Park Service Visitor Center in Calabasas has many of the tools you will need for hiking the BBT. The Santa Monica Mountains National Recreation Area map and brochure includes the Backbone Trail itself and shows roads and parking throughout the area. The Backbone Trail map shows roads, trailheads, water, and bathrooms along the trail. It also shows which areas of the trail are open for mountain bikers and which areas of the trail you can have your dog with you.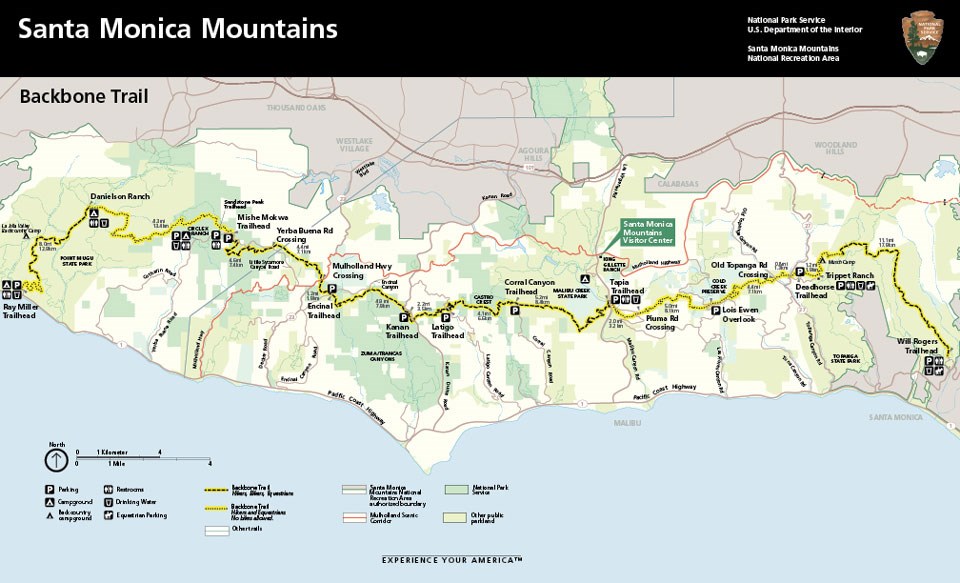 For detailed topographic information, purchase the four Tom Harrison maps:
Pt. Mugu State Park
Zuma-Trancas Canyon
Malibu Creek State Park
Topanga State Park
The Trails Illustrated Santa Monica Mountains Map is less detailed, but covers the entire Santa Monica Mountains in one map (half on each side). The Santa Monica Mountains Interagency Visitor Center has all of these maps.
Last updated: January 4, 2022